---
AAD debuts Innovation Academy in Vancouver
Attendees gain new research, ideas, and practice tips.
---
The AAD's new summer meeting, Innovation Academy 2022 delivered on its commitment to provide enhanced education, engaging speakers, and networking opportunities for dermatology professionals.
The July 21-24 meeting in Vancouver featured notable events, from sessions and keynotes to non-CME education and social networking. The first day of the meeting opened to the Innovation Academy welcome reception, where attendees had their first opportunity to explore the AAD Exhibit Hall, mingled with colleagues, and enjoyed food and drink.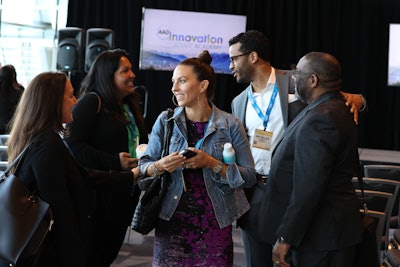 On Thursday, July 21, attendees got a glimpse of what lies ahead at the F001 – Future of Dermatology session. Panelists provided a look at recent, groundbreaking scientific developments in dermatologic research and its application to clinical practice, including a prognostic test proving successful in the treatment of cutaneous melanoma patients.
For busy dermatologists, Thursday's C001 – Practice Management Course featured an in-depth look at the nuts and bolts of managing a thriving, efficient, and successful dermatology practice. Session director Alexandra Flamm, MD, FAAD, assistant professor of dermatology at Penn State Health in Hershey, Pennsylvania, led a panel of experts in perfecting everyday tasks, from procedural coding to the Merit-based Incentive Payment System (MIPS). Panelists also provided practical tips for incorporating wellness and safety concepts into a practice, how to approach difficult patient conversations, and current barriers in accessing medications and how to approach them.
Similarly, Thursday's E001 – Branding and the Business of Dermatology covered practice branding essentials for all dermatologists, from the early-career professional to the experienced clinician. Branding experts Libby Gill, leadership expert, executive coach, and award-winning author, and Robert Spector, customer service expert, best-selling author, and creator of "The Nordstrom Way," shared practice marketing and social media, branding and product development, and leadership and customer service tips. AAD President-Elect Terrence A. Cronin Jr., MD, FAAD, and Anar Mikailov, MD, FAAD, director of hospital dermatology at Lahey Health in Boston, also provided key takeaways.
For the hands-on fan, Innovation Academy featured its new Derm Labs series. Thursday's series included labs on wound closures, nail surgery, scar revision, and innovative suture techniques. Each session featured small group faculty instruction and realistic practice.
The highlight of Innovation Academy's opening day was keynote speaker Jamie Metzl. Metzl, a leading technology and health care futurist and author of the bestselling book, Hacking Darwin: Genetic Engineering and the Future of Humanity, delivered an energizing and informative keynote that explored the implications of the revolutionary technologies and geopolitical shifts transforming our world.
Practice management, therapeutic revolutions, and more
Day two of Innovation Academy was equally robust. P002 – Innovations in Practice Management: Reimagining Dermatology Clinical Practice After COVID answered the question, "Now what?" when moving forward with your practice after a pandemic. Session director Vinod Nambudiri, MD, MBA, FAAD, said the key to returning to a dynamic and ever-evolving dermatology practice was as simple as mastering the art of flexibility.
That same day, Brett A. King, MD, PhD, FAAD, associate professor of dermatology at the Yale School of Medicine tracked the incredible transformation of Janus kinase (JAK) inhibitors for the treatment of hematologic cancer to its current use in treating a host of dermatologic diseases during Friday's session, P015 – JAK Inhibitors: A Therapeutic Revolution in Dermatology. In September 2021, the FDA approved a topical JAK inhibitor for atopic dermatitis, then two oral JAK inhibitors for atopic dermatitis in January of this year. Last month, the FDA approved an oral JAK inhibitor for alopecia areata. The FDA also recently approved topical ruxolitinib for the treatment of nonsegmental vitiligo in patients aged 12 or older.
So Yeon Paek, MD, FAAD, assistant clinical professor of dermatology at Texas A&M College of Medicine in Dallas, offered hope to the many patients living with hidradenitis suppurativa (HS) during her session, P012 – New and Emerging Therapies. And Jason B. Lee, MD, FAAD, professor of dermatology and cutaneous biology and director of both the Jefferson Dermatopathology Center and the Dermatopathology Fellowship and Pigmented Lesion Clinic at Thomas Jefferson University Sidney Kimmel Medical College, told attendees the biggest predictor of diagnostic error is lack of experience during Friday's session, P017 – Approach to Improving Diagnosis, 
Mehdi Rashighi, MD, FAAD, a physician-scientist and an assistant professor of dermatology at the University of Massachusetts Medical School in Worcester, led a discussion on the promising array of treatments for existing skin disorders during Friday's session, P001 – New Therapies for Old Diseases. The session covered everything from the use of JAK inhibitors to multiple monoclonal antibodies.
The Friday, July 22, sessions also featured a personal story. Carolyn Goh, MD, FAAD, associate clinical professor of dermatology at the David Geffen School of Medicine at the University of California in Los Angeles, talked of her own alopecia totalis diagnosis, as well as patients' physical and emotional considerations, during Friday's session, P003 – Managing Hair Disorders in a Diverse Population.
The integration of and use of new technology that has emerged from the pandemic was the focus of Friday's session, P013 – Strategies for Optimizing Consultative Dermatology. Of importance was the benefit of bringing never-before-seen opportunities for patients once at a disadvantage due to limited resources and geographic barriers, according to session director Lindsay Strowd, MD, FAAD, associate professor and director of inpatient consultative dermatology at Wake Forest School of Medicine in Winston-Salem, North Carolina.
Friday ended with a lighthearted moment for the serious topic of developing new dermatology-related products and techniques. D001 – Derm Tank followed the format of TV's popular Shark Tank show to provide physicians the opportunity to compete for ideas with commercial appeal and a "seed" money honorarium to launch those ideas. Jigar Ramesh Patel, MD, FAAD, took the top prize at the end of the event. A list of all Derm Tank participants and their presentations is available online.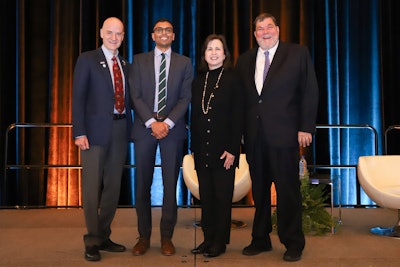 Two important named lectureships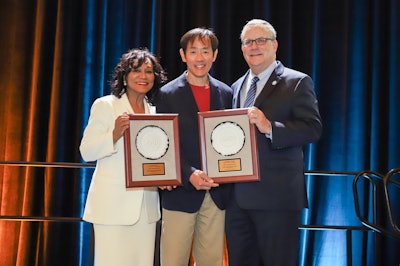 Saturday, July 23, began with two inspiring named lectures. The A. Paul Kelly, MD Research Award and Lectureship is new to AAD summer meetings. "Challenges, Conundrums, and Innovations: The Changing Landscape of Pigmentary Disorders" was delivered by Pearl Grimes, MD, FAAD, while Robert T. Brodell, MD, FAAD, FRCP delivered the Everett C. Fox Memorial Lecture, "Access to Care: It's Everyone's Job." Visit AAD DermWorld Meeting News Central for stories on these lectures. 
N'awlins is callin' for AAD in 2023
New Orleans will welcome the American Academy of Dermatology back for the 2023 Annual Meeting, March 17-21. The Academy has planned a truly remarkable educational roster for its first visit back to this exciting city since 2011. The AAD will offer an outstanding array of courses, symposia, workshops, discussion groups, and focus sessions touching on every aspect of dermatology.
Curious? Check out the 2023 Annual Meeting webpage for more information.
Plans are also in the works for the next year's AAD Innovation Academy, which will be in Tampa, Florida, Aug. 10-13, in 2023.
Visit AAD DermWorld Meeting News Central for more articles.