---
Consultive dermatology plugs in post pandemic
Emerging technology expands capabilities and care.
---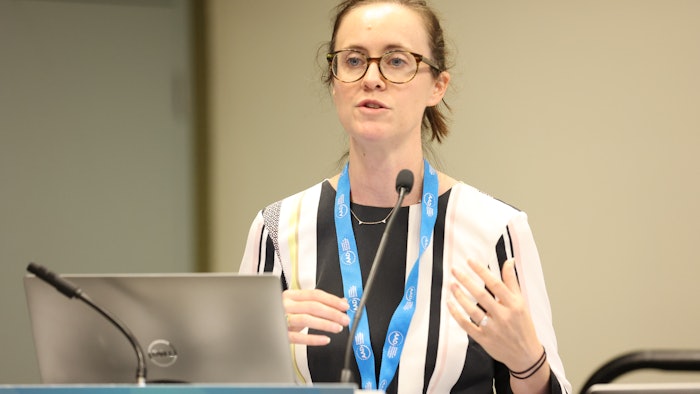 P013 - Strategies for Optimizing Consultative Dermatology
Friday, July 22 | 1 – 3 p.m.
The ongoing pandemic has pushed forward the integration and use of new technologies across all dermatology practices, bringing never-before-seen opportunities for patients once at a disadvantage due to limited resources and geographic barriers.
The latest advances in technology and treatment were the focus of Friday's session, P013 – Strategies for Optimizing Consultative Dermatology. Session director Lindsay Strowd, MD, FAAD, associate professor and director of inpatient consultative dermatology at Wake Forest School of Medicine in Winston-Salem, North Carolina, said multiple new consult initiatives are being pioneered and studied to determine quality and impact on patient outcomes.
"These include increasing use of video and photo-based remote consultations in the inpatient hospital setting as well as asynchronous primary care physician-dermatologist consults in the outpatient setting," she said.
Dr. Strowd, along with a panel of experts, highlighted these and other changes to the area of consultative dermatology. Among those changes is the ability to upload high-resolution clinical images of the patient's skin. Combined with the ability to engage in video-based interviewing and exams, the process has placed remote impatient consulting virtually on par with face-to-face consultations.
Similarly, that technology can also allow consultive dermatology to play a critical role in providing equitable care to patients who might not otherwise have access to it. These can include patients without insurance, those with Medicaid, those living in dermatologist-poor areas such as rural communities, and patients in specific care settings where dermatology is not readily accessible such as hospitals, nursing facilities, and prisons.
Increased access
"Access to board-certified dermatologists can be challenging in many parts of the United States, and can result in significant delays in patient care, proper diagnosis and implementation of treatment," Dr. Strowd said. "Consultative dermatology allows the primary provider for the patient to obtain expertise from dermatologists in different forms, including live person-to-person consultation, asynchronous electronic consultation, video-based consultation, and telephone consultation. By leveraging technology, dermatologists can reach more patients in a timely manner and aid in diagnosis, treatment, and triaging of patients with skin disorders."
Maximizing technology
Another emerging trend highlighted during the session involved hospitals that don't have their own dermatology program and how they are using technology to help bolster their dermatologic patient consults.
"Historically, academic teaching institutions with a dermatology residency training program have had the resources and infrastructure to support an inpatient dermatology consult service," Dr. Strowd said. "There is an increasing trend in non-dermatology program hospitals to partner with affiliated or community dermatologists and leverage technology to efficiently staff inpatient consults. The number of teledermatology platforms combined with relatively sophisticated EHR systems provides an opportunity for innovation in this space."
Pitfalls and solutions
According to Dr. Strowd, there are some disadvantages to remote consultations, but those have been mitigated somewhat by the nature of inpatient dermatology.
"One of the biggest drawbacks to remote inpatient dermatology consultations is the inability to touch the patient and feel the changes in the skin," she said. "However, inpatient dermatology is somewhat unique in that dermatologists need to use and synthesize many additional data points in the patient's overall hospital stay to provide exact diagnostic and therapeutic advice. These can include serologic studies, imaging, other expert consultations, culture data and more, which can all be obtained remotely."
Dr. Strowd encouraged practicing dermatologists who are interested in learning more about how to set up a consultation service to contact the Society of Dermatology Hospitalists for more information.
Visit AAD DermWorld Meeting News Central for more articles.