---
Game-changing new treatments evolve for dermatologic conditions
JAK inhibitors rise to the top.
---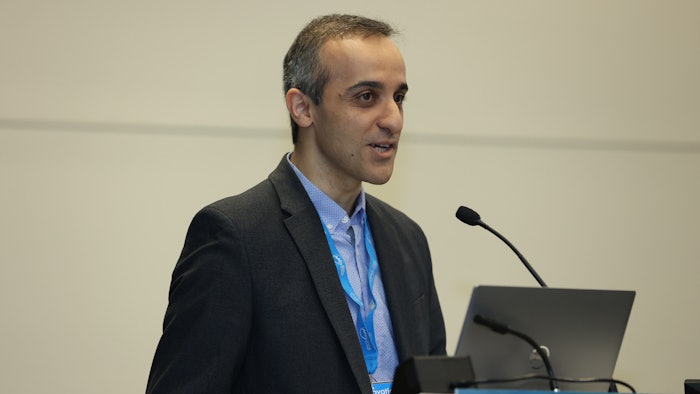 P001 - New Therapies for Old Diseases
Friday, July 22 | 9 a.m. – 12 p.m. 
From the use of Janus kinase (JAK) inhibitors to multiple monoclonal antibodies, new treatments and therapies are emerging for conditions that dermatologists have battled for decades.
Mehdi Rashighi, MD, FAAD, a physician-scientist and an assistant professor of dermatology at the University of Massachusetts Medical School in Worcester, led a discussion on the promising array of treatments during Friday's session, P001 - New Therapies for Old Diseases.
"Historically, most treatments used to treat patients with inflammatory skin diseases have been used off-label, as there were no FDA-approved treatments available. New advances in our understanding of the underlying pathogenesis of inflammatory skin diseases over the past decade led to the development of new targeted therapies, including small-molecule inhibitors (especially JAK inhibitors) and monoclonal antibodies," Dr. Rashighi said. "While the early studies primarily focused on developing and testing targeted therapies in patients with psoriasis, many investigators and pharmaceutical companies began to identify and develop better treatments in patients with other common inflammatory skin diseases, including atopic dermatitis, alopecia areata, vitiligo, and hidradenitis suppurativa. In addition, investigators recognized unmet needs to develop similar targeted therapies in patients with rare inflammatory skin diseases, including those with autoimmune connective tissue diseases (CTD), granulomatous dermatoses, neutrophilic dermatoses, and rare autoinflammatory diseases."
During the session, Dr. Rashighi explored new therapies for the treatment of rare, multi-systemic autoinflammatory diseases and neutrophilic dermatoses that affect other organs in addition to the skin. These include treatments that target specific cell types or pathways that play a role in innate immune responses. Monoclonal antibodies are being used to target IL-1beta, IL-6, and TNF. Further, oral JAK inhibitors have been used to treat patients with certain autoinflammatory diseases that lead to upregulation of type I interferons, including oral JAK inhibitors that disrupt the downstream signaling of these cytokines. 
JAK basics
The new session provided a good primer on JAK inhibitors. Hailed as "medical marvels," JAK inhibitors have created a promising path forward toward treating multiple conditions. 
Brett King, MD, PhD, FAAD, associate professor of dermatology at Yale School of Medicine in New Haven, Connecticut, told attendees there have been significant developments in the use of oral JAK inhibitors to treat severe alopecia areata (AA).
"Until recently, there have been no approved treatments for AA," Dr. King said. "While intralesional corticosteroids are often effective for treatment of mild AA (i.e., limited hair loss) prior to oral JAK inhibitors, treatments for severe AA were largely ineffective."
During the session, Dr. King explored the recent phase 2 and 3 clinical trial data for the just-approved JAK inhibitor baricitinib as well as the ongoing research into the inhibitors ritlecitinib and deuruxolitinib. He said oral minoxidil may also have a role in the treatment of alopecia areata in combination with those JAK inhibitors in a small number of patients.
Baricitinib was FDA-approved for treatment of severe AA in June, and Dr. King said it is a big step forward in helping patients.
"There has been nothing for these patients," he said. "And now there is an effective treatment. It's a huge advancement. Meanwhile,  two other JAK inhibitors are advancing toward FDA approval in the not-so-distant future. Truly, these therapies are revolutionary."
Treating more conditions effectively
AA isn't the only dermatologic condition reaping the benefits of JAK inhibitors. Avrom Caplan, MD, FAAD, co-director of the NYU Sarcoidosis Program and assistant professor at the Ronald O. Perelman Department of Dermatology at NYU Grossman School of Medicine in New York City, said there is growing, recent research supporting the use of JAK inhibitors to treat sarcoidosis and granuloma annulare.
"It's really exciting and potentially game-changing for patients with refractory and chronic cutaneous and extracutaneous sarcoidosis," Dr. Caplan said. "We also know that sarcoidosis has varied presentations, severity, and prevalence. This leads to challenges in diagnosis and management, and difficulty predicting the natural course of the disease, so the story is still unfolding."
Dr. Caplan said there are still some unanswered questions about JAK inhibitors — including which patients would most benefit from them, the right time to start these therapies, and the duration. Despite these uncertainties, Dr. Caplan said JAK inhibitors remain a promising treatment for granulomatous skin diseases. 
"The newer therapies are attempting to selectively or broadly target aspects of the immunologic cascades in granulomatous disorders," he said. "While established therapies likely impact some of these pathways, the selection of newer therapies is attempting to do what targeted therapies have done for other skin conditions. I think what is important here is the emerging story of translational research in granulomatous skin disease shedding light on immunopathogenesis and new options in treatment. These efforts are being led by dermatologists but with potentially important implications for extracutaneous disease as well as skin disease."
Big news for vitiligo treatment
David Rosmarin, MD, FAAD, clinical investigator and vice chair for research and education at Tufts Medical Center in Boston, Massachusetts, highlighted a new treatment for vitiligo that was just approved by the FDA.
The FDA approved topical ruxolitinib this week for the treatment of nonsegmental vitiligo in patients aged 12 years or older. The cream formulation of ruxolitinib — a JAK 1/JAK 2 inhibitor — was first approved in September 2021 for the treatment of mild-to-moderate atopic dermatitis. Previously, no treatment was approved to repigment patients with vitiligo.
"About half of the patients get 75% or more of the pigment back on the face and 50% or more on the whole body," Dr. Rosmarin said. "Even patients who've had vitiligo for decades may still respond. Vitiligo is challenging to treat, and it takes time for the re-pigmentation process. It is an exciting time as new areas of development are happening now." 
Afsaneh Alavi, MD, FAAD, senior consultant at the Mayo Clinic in Rochester, Minnesota, said JAK inhibitors are just one among a growing list of new therapies for treating hidradenitis suppurativa, including novel therapeutics such as anti-IL-17 and anti-IL-36, IRAK-4 inhibitors, and anti-neutrophilic agents.  
"HS in an inflammatory condition and may be one of the most heterogenous diseases in dermatology, with involvement of multiple convergent pathways," Dr. Alavi said. "HS has different severities, but even mild disease, by definition, can impact the life of the patient considerably. One painful nodule can hinder all your activities, and we do not have many options for HS patients with mild-to-moderate spectrum of the disease."
Existing therapies such as adalimumab and other TNF inhibitors such as infliximab have been used with some success, but response to the treatment varies. Dr. Alavi said that newer therapies such as anti-IL-17 medications have shown even more efficacy.
"More targeted therapies, combination therapies, and an earlier start increases the efficacy," she said. "We are moving toward more effective therapies and more importantly individualized medicine with more options. There is light at the end of the tunnel, and many scientists are continuing work in this area."
Disease modification
Also, during the session, Benjamin Ungar, MD, FAAD, director of the Rosacea and Seborrheic Dermatitis Clinic at the Icahn School of Medicine at Mount Sinai in New York, highlighted potential new therapies for atopic dermatitis in the form of the anti-OX40/OX40L monoclonal antibodies and CCR4 inhibitors. Dr. Ungar said early research shows they may modify the disease, rather than just treat the symptoms.
"Until now, great therapies have been developed to treat the disease," he said. "However, generally, ongoing therapy is needed to maintain a clinical response. These new therapies may change the game for dermatologists going forward because targeting the pathway that OX40/OX40L and CCR4 play a role in may produce durable responses through modifying the disease process rather than just suppressing the ongoing inflammation."
Thanks to these and other innovations, Dr. Ungar said it is an exciting time for atopic dermatitis treatments.
"In addition to several effective treatments that are available now, there is a therapeutic pipeline that holds promise for expanding the treatment arsenal that we can use as dermatologists to ensure that all of our atopic dermatitis patients are effectively treated," he said.
Visit AAD DermWorld Meeting News Central for more articles.