---
Unlocking the secrets of mind-body therapy
Important brain-skin connection at play.
---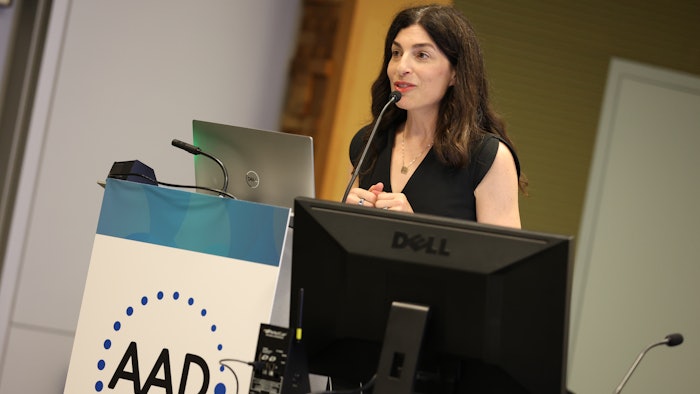 P032 – Mind-Body Therapies as a Treatment Strategy in Dermatology: What Is the Evidence?
Saturday, July 23 | 1 – 3 p.m. 
Mind-body therapies can augment current treatment strategies in dermatology and improve outcomes. A growing body of research is clarifying the many ways little-known, two-way communication channels between the skin and brain can affect skin barrier function, immune function, and much more.
"Our brain and skin are derived from the same embryologic tissue, the ectoderm," said Keira L. Barr, MD, FAAD, founder and chief wellness officer of Resilient Health Institute in Gig Harbor, Washington. "There is bidirectional communication between the brain and skin. When there is a stressor that activates our stress response, the skin is both a source of signals and a target."
Dr. Barr shared the secrets of this exciting therapy during this year's AAD Innovation Academy session, "Mind-Body Therapies as a Treatment Strategy in Dermatology: What Is the Evidence?" The session explored the biology that underlies skin-brain signaling, approaches to using the mind to heal the skin, the effects of circadian rhythm on skin and skin health, and the evidence for mind-body approaches to improve the management of hidradenitis suppurativa.
Bad stress versus good stress
Many clinicians tend to think about stress as a unidirectional, top-down process, Dr. Barr said. In response to a stressor, the hypothalamic pituitary adrenal (HPA) axis releases hormones, inflammatory chemokines, and other signals throughout the body. Every organ system, including the skin, responds.
"What many people may not appreciate is that the skin has its own HPA axis as well as the sympathetic adrenal medullary axis, which produces epinephrine and norepinephrine responses," Dr. Barr said. "When we are under chronic stress situations, these responses can leave the skin more vulnerable to infection and irritation."
Not all stress is negative, Dr. Barr emphasized. Chronic stress can have important negative effects. One of the most dramatic is the role stress can play in the tumor microenvironment and the pathogenesis of skin cancer. There is compelling evidence that stress can play roles in tumor formation, tumor survival, and tumor progression with direct effects in morbidity and mortality.
"We can help our patients learn how to regulate their stress response to help minimize flares in conditions that are affected by stress like psoriasis, acne, eczema, and most especially skin cancer," Dr. Barr said. "Managing and regulating chronic stress can help reduce the likelihood of skin cancer developing and slow or stop progression."
Group think 
Mind-body therapy employs practices such as movement, mindfulness, and meditation, Dr. Barr explained. Although there are many different types of mind-body skills, all embody attuning to the present moment which can help manage stress.
Working one-on-one with people can be effective, she continued, but group sessions can be even more effective, especially when everyone in the group is dealing with similar challenges. 
"Offering this work in groups can create meaningful connections and a felt sense of community, which is one of the biggest things that came out in the research, especially with cancer and skin cancer," Dr. Barr said. "Loneliness, feeling alone, is an epidemic problem, and the impact on cancer morbidity and mortality is significant. Creating connection by teaching these skills in a group setting can be incredibly powerful and healing for participants."
Empowering patients with the mind's resources
Attuning to what patients say both with their words and their body language and acknowledging the potency of mind-body connections can make an important difference, Dr. Barr continued. Supporting patients with simple, actionable, and effective practices like breathing exercises can be highly effective in reducing and regulating stress. There are also multiple mindfulness apps that may work well for some patients. 
"There are many online mind-body resources available if dermatologists are not in a position to provide this approach themselves," Dr. Barr said. "Learning skills to manage stress is critical to our overall health and wellbeing. Skin care is more than products and prescriptions; it's about connection and relationship, the connection and relationship between our brain, our body, our skin, and ourselves. To help our patients truly thrive, the most powerful prescription we can give them is empowering them to connect to their bodies so they can feel comfortable in their skin."
Visit AAD DermWorld Meeting News Central for more articles.