---
Welcome to a new AAD summer experience
A high-octane, education-rich meeting.
---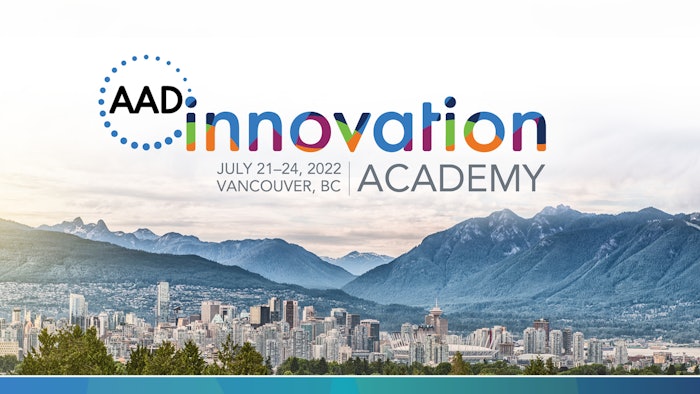 It wouldn't be summer without a high-octane, education-rich AAD meeting. For several years, the AAD has been exploring ways to enhance the summer meeting experience. Now it's here, and it's something special. This summer, the Academy will launch its latest meeting program: AAD Innovation Academy!
Innovation is the new summer watchword. The Academy is ramping up its efforts to bring you true innovation in dermatology, through tracks and learning formats designed to inspire new ideas, advance the way you practice, and create more opportunities for attendee engagement and networking. There will be more than 40 sessions in Vancouver, and more than 30 presenters. Here's an overview of what you can expect.
Every day is something new
The 2022 AAD Innovation Academy will start on Thursday afternoon with a "choose your track" option. F001 – Future of Dermatology will highlight the latest ground-breaking observations in dermatology research, novel techniques, new drugs, devices, and other dermatologic products. Note: This session is not certified for CME credit.
Budding entrepreneurs and dermatologists who want to be more business savvy can attend E001 – Branding and the Business of Dermatology, which will feature talks on marketing and social media, branding and product development, and leadership and customer service.
Some of the traditional aspects of the Summer Meeting can still be found during AAD Innovation Academy. Popular hands-on workshops will be offered via new Derm Labs. The AAD is also offering C001 – Practice Management Course on coding challenges, denials, managing staff, and more. Thursday will close out with an energizing keynote lecture delivered by Jamie Metzl, a leading technology and health care futurist. Attendees can also enjoy a welcome reception where they can explore the exhibit hall and enjoy delicious food and refreshments.
Friday through Sunday, you'll find parallel sessions covering the latest and greatest in several clinical topics. There will also be two named lectureships on Saturday. The AAD has taken attendee feedback and pared down the number of sessions offered at once, so you can easily go to what's important and relevant to you, without feeling like you're missing out.
Friday evening you'll want to experience the much-anticipated Derm Tank, a fun, engaging session where presenters pitch their product or procedure to a panel of judges for a chance to win $10,000.
And there's more …
Another new component of this meeting is the Experience Hub, a place where attendees, faculty, and industry professionals can come together and have more intimate discussions. What you ask for is what you get in the Experience Hub — we'll be crowdsourcing the topics you want to hear more about and hosting smaller presentations and conversational pods with experts in those areas.
AAD Innovation Academy will have something for everyone (including childcare!), so start making your plans to join us in beautiful Vancouver this summer.
Follow @aadmember on social media and use the hashtag #AADinnovation2022 in your tweets, posts, and videos. 
You can register today for the AAD Innovation Academy. For more information, visit the AAD Innovation Academy page at AAD.org.  
Visit AAD DermWorld Meeting News Central for more articles.