---
How to have mindful, effective conversations with patients
Tweak your listening skills to maximize your crucial conversations with patients and colleagues.
---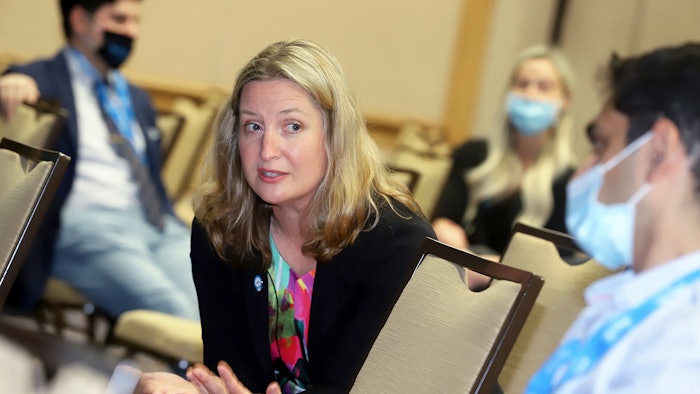 Conversations are an essential part of every dermatology practice and everyday life. But in these stressful times brought on by the pandemic, the ever-changing health care environment, and the demands of work/life balance, even simple conversations can turn into crucial turning points in your relationship with patients and colleagues. The difference is, do you leave them feeling unsettled or satisfied?
"Crucial conversations occur in all our day-to-day lives, often spontaneously, with a variety of stakeholders," said Bethanee Jean Schlosser, MD, PhD, FAAD, director of Thursday's "Crucial Conversations in Stressful Times" (F008).  "Crucial conversations involve varying opinions, high stakes, and strong emotions. Successfully navigating crucial conversations can positively transform people and their relationships."
Dr. Schlosser, who is associate medical director of immunology clinical development at AbbVie, led the session with Marsheila DeVan, MBA, founder and "chief velvet hammer" of Elite Communications, with offices in Washington Crossing, Pennsylvania, and Arroyo Grande, California. DeVan offered strategies and techniques to help navigate the difficult, yet vital, conversations that are a part of daily life.
Dermatologists in clinical practice serve many roles: physician, confidante, manager, leader, adviser, coach, and learner, DeVan said. Being able to successfully navigate crucial conversations with patients and their family members, colleagues, clinical care team members, administrators, and employers offers multiple advantages. Dermatologists can enhance relationships, improve clarity, and better understand their own as well as other perspectives. With practice and mindfulness, they can increase confidence and gain a greater sense of control over decisions that affect their professional and personal journeys.
Delaying or avoiding crucial conversations is not a realistic option, Dr. Schlosser said. Just as navigating crucial conversations brings strategic benefits, avoiding them will have severe consequences that affect every aspect of life. Career, family, and relationships will all suffer if these vital conversations are not faced.
Here are two tips for starting those crucial conversations.
1.    Create an open environment that emphasizes mutual purpose and respect. Speaking persuasively is quite different from speaking abrasively.
"To be a successful communicator, it's important for people to feel safe talking about almost anything," Dr. Schlosser said. "There are tools that help people have productive and engaging conversations when the stakes are high."
2.     Work to improve your listening skills. The ABCs of listening — agree, build, compare — encapsulates a highly effective, tested, and evidence-based approach to becoming a better, more effective listener.
Being an effective listener doesn't mean not speaking, however. It means taking the time to listen to what the other participants have to say and focusing on their perspectives instead of your own before responding.
In many cases, people simply want to be heard. Offering advice or a response too soon in the conversation can create resistance. A more effective approach is to listen without jumping in or interrupting. When the time comes for a response, start out by pointing out areas of agreement.
Focusing on areas of disagreement simply creates more conflict. Focusing on areas of agreement helps build positive momentum and approaches.
When you do disagree, criticizing or attacking can be counterproductive. Instead, compare ideas and potential solutions. Laying them out side by side can help defuse a stressful situation so participants can focus on resolution instead of conflict.
"Building one or two critical skills can help you have those crucial conversations you might have been avoiding," Dr. Schlosser said. "Developing rapport, communicating with confidence, listening effectively, understanding the other person's point of view, and being able to paraphrase can help you clarify what you want to gain from any discussion and come to mutual agreement."