---
COVID-19: A "predictable surprise"
Former CDC director explores COVID-19 variants, vaccines, and vigilance.
---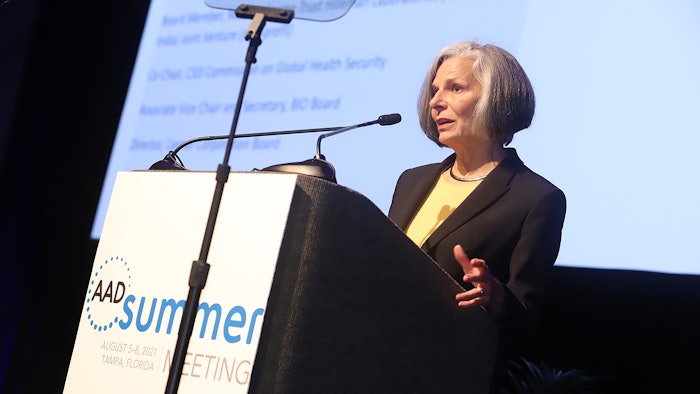 Former CDC Director Julie Gerberding, MD, MPH, called COVID-19 a "predictable surprise." when she delivered the keynote address during the Summer Meeting's high-interest Plenary (P151) on Friday.
"We have been woefully unprepared for something we knew was a real threat," Dr. Gerberding said. "For the last 20 years, we've known that viruses would be a threat, and we continued to act as if it's a one-off thing. Unfortunately, we learned the hard way."
As the former director of the U.S. CDC from 2002-2009 under President George W. Bush, Dr. Gerberding led the agency through severe acute respiratory syndrome (SARS) and more than 40 emergency responses to public health crises, including Hurricane Katrina. 
In 2010, Dr. Gerberding joined Merck as president of vaccines and was instrumental in increasing global access to the company's vaccines. She is currently executive vice president and chief patient officer at Merck & Co., Inc., where she is responsible for global public policy, communications, patient engagement, corporate social responsibility, and other functions. 
During her address, Dr. Gerberding provided an update on the evolution of COVID-19 and where the virus stands today, specifically looking at variants, vaccines, and vigilance. The variants we are now battling emerged long before vaccines were available, she said. She warned that there are new variants waiting in the wings that will force the need for increased monitoring.  
While improving vaccination rates is critical in the war against COVID-19, Dr. Gerberding said it's not the first time we've been divided over a vaccine program. History reminds us that as far back as our Revolutionary War, the introduction of the smallpox vaccine sparked societal divide, Dr. Gerberding said. Much like today, those opposed to the smallpox vaccine cited safety, scientific uncertainty, and religious objections.
"The smallpox vaccine was incredibly controversial during the Revolutionary War," she said. "The smallpox vaccine worked. The irony is that today's vaccines are very safe compared to the vaccines of 200 years ago."
Dr. Gerberding credits both misinformation and disinformation for low vaccine rates and said there's a difference between the two. She said the dermatologists play an important role in disseminating facts and improving the vaccination rate.
"Misinformation is when people unknowingly promote things that aren't true. Disinformation is when people intentionally promote falsehoods," she said. "Dermatologists should use their influence to advocate for the vaccine. People trust doctors, especially their personal doctors." She added that the challenge is putting the facts in a common-sense framework that can help more people.