---
Two physicians honored with AAD Gold Medal awards
AAD confers its highest honor to two physicians.
---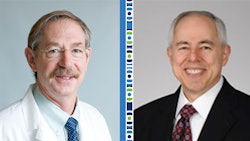 Professor R. Rox Anderson, MD, FAAD, and Dirk Michael Elston, MD, FAAD, were presented with Academy Gold Medal awards during Friday's Plenary (P151).
The Gold Medal award is the Academy's highest honor. It is presented on a highly selective basis in recognition of outstanding and exceptional service to the specialty of dermatology in the science, teaching, and practice of cutaneous medicine and surgery. It is also considered for those who have made an outstanding and exceptional contribution to the administrative aspects of this specialty, nationally, or internationally.