---
"Uninvite" disaster by planning
Planning and effective communication can steer you away from "predictable harm."
---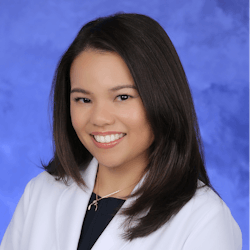 "So many adverse events can be avoided with stringent planning," said Charlene Lam, MD, MPH, FAAD, associate professor of dermatology at Pennsylvania State University, who will be focusing on patient safety and optimizing the dermatology practice when she leads Saturday's session, "Preventing Disasters in Your Practice" (F014).
"To quote Alexander Pope, 'To err is human…,'" Dr. Lam said. "Despite our best intentions, there will be errors in our practice. However, the goal is to learn from these mistakes and identify processes that will prevent mistakes or address situations when they occur." 
The new session will prepare attendees for the unexpected and "predictable harm."
In the clinical, pathological, and surgical arena, Dr. Lam will be joined by speakers Allison Therese Vidimos, MD, RPh, FAAD, chair of the department of dermatology at the Cleveland Clinic; Galen Toye Foulke, MD, FAAD, assistant professor of dermatology at the University of North Carolina Chapel Hill; and Alexandra Flamm, MD, FAAD, assistant professor of dermatology at Pennsylvania State University. The speakers talked to DermWorld Meeting News in advance of their upcoming Saturday session.
For medical dermatology, Dr. Foulke said understanding well-reported risks associated with specific systemic medications is imperative. Deploying well-studied plans to protect patients from predictable harms using evidence-based prophylaxis is rule No. 1. Dermatologists perform many procedures and in a fast-paced environment, Dr. Foulke said. It is critical to have processes in place to keep dermatologists and their patients safe. 
In describing practical practice situations where errors can occur, Dr. Flamm said communication between dermatologists and dermatopathologists is critical to ensuring positive patient outcomes. Certain pitfalls are related to breakdowns in communication and include when key clinical information is not available to dermatopathologists. These include processing, embedding, and staining specimens. Additionally, understanding the various ways ancillary testing should and should not be used is important to avoid errors in diagnosis and unnecessary costs for patients.  
"Published studies show that dermatologists underutilize effective strategies for minimizing iatrogenic harm to patients with biologic therapy, DMARDs, prednisone, and others," Dr. Foulke said. "This session will provide clear strategies for deploying effective prophylaxis, such as recommendations for vaccination, toxicity monitoring, bone prophylaxis, and others."
Device safety is also a critical part of Saturday's session. Drs. Vidimos and Lam will explore procedural safety issues, including hardware problems during surgery, wrong site surgeries, sharps injuries, eye and fire safety in lasers, vascular occlusion in soft tissue fillers, and biopsy specimen issues. Through case studies and root cause analyses, session presenters will identify certain conditions that could result in harm and strategies for preventing them.  
"To finish the quote from Alexander Pope, 'To forgive is divine,'" Dr. Lam said. "The purpose of the session is not to point out faults or embarrass, but to learn and change the culture of medical errors so that it is a more transparent process."