---
Lessons from COVID-19's cutaneous manifestations
Dermatologic symptoms may be the first notable sign of acute COVID-19 for some patients.
---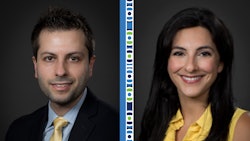 We have been learning that — like many bacterial and viral infections — COVID-19 can affect the skin. Dermatologic symptoms may be the first notable sign of acute COVID-19 for some patients. For some patients, dermatologic manifestations are the visible sign of SARS-CoV-2 infection.
These symptoms were examined in depth in a new session on Thursday, "Cutaneous Manifestations of COVID-19" (U004).
"We see a wide variety of skin manifestations with COVID-19," said Sergey Rekhtman, MD, FAAD, PharmD, MPH, assistant professor of dermatology at the Donald and Barbara Zucker School of Medicine at Hofstra/Northwell and co-director at Inpatient Dermatology Consultation Service, Northwell Health. "The majority of these tend to be fairly harmless, like pernio and COVID toes, with minimal consequences for patients. Sometimes, we see signs of acute vascular injury as evidenced by retiform purpura or multisystem inflammatory syndrome (MIS). Dermatologists can help make the diagnosis and help with prognostication. We have a key role in helping patients understand how their skin reacts to COVID and COVID vaccination."
Dr. Rekhtman co-directed the session with Sheila Shaigany, MD, FAAD, who focused on dermatologic reactions to COVID-19 vaccination. She is assistant professor of dermatology at the Donald and Barbara Zucker School of Medicine at Hofstra/Northwell, and co-director of the Northwell Health Inpatient Dermatology Consultative Service.
Skin rash is one of the primary diagnostic criteria of MIS, Dr. Rekhtman said. With more than 3,000 distinct cutaneous presentations included in the broad term "rash," dermatologists can help the care team distinguish between lookalikes, such as deep tissue pressure injury and the variety of purpuric features seen in COVID-19, as well as identify morbilliform rashes, urticaria, and other cutaneous features seen in moderate-to-severe COVID-19.
"We were in a unique position because we saw so many COVID-19 cases in New York last March through June," Dr. Rekhtman said. "We can help provide insight into this problem because we were able to systematically evaluate a large number of patients in a very short time period."
New York area clinicians were similarly immersed in COVID-19 vaccine trials and initial vaccination programs targeting health care providers. Dr. Shaigany noted that all the COVID vaccines in current use can produce injection site reactions, typically pain and swelling, much like any other vaccine.
The mRNA vaccines produced by Pfizer and Moderna can also induce delayed reactions. The Moderna vaccine, in particular, can have uncommon large local reactions that appear seven to eight days after injection.
"We are fortunate to have learned about these reactions through pivotal studies, such as the AAD/ILD COVID-19 vaccine registry. These delayed local reactions present as large, edematous pink plaques," Dr. Shaigany said. "Up to half of these reactions may span more than 10 centimeters wide. Although these reactions can last longer than the more familiar acute injection site reaction (sometimes up to one week), they typically resolve without any complications."
The usual treatment for delayed injection site reactions may include topical steroids, antihistamines, and cool compresses, she said. Although these reactions are thought to possibly represent a delayed type hypersensitivity response, they are not a contraindication to a second vaccine dose. Up to half of patients with delayed large local reactions may have a similar reaction to the second vaccine dose, but the second reaction is seldom more severe than the first.
Urticaria and morbilliform rashes have also been reported following mRNA COVID vaccination. Patients who develop urticaria within four hours of vaccination may be experiencing a Type 1 hypersensitivity reaction, which could be a contraindication to a second dose, especially when severe symptoms indicative of anaphylaxis are present. However, Type I hypersensitivity reactions are rare, and patients who develop hives or a morbilliform rash more than four hours after vaccination are not thought to be having an allergic reaction. Patients who are uncomfortable can be managed with antihistamines and topical steroids, Dr. Shaigany said. "And as far as we can tell, there is not an increased risk for recurrence of these rashes with the second dose."
"Some of the rashes we saw with COVID infection are also occurring after COVID vaccination, such as urticaria, morbilliform rashes, erythema multiforme, pernio, and pityriasis rosea," Dr. Shaigany said. "This strengthens the hypothesis that these are immune-mediated reactions rather than reactions to the virus itself. When these rashes appear after vaccination, I sometimes tell patients, it means the vaccine is working, that your immune system is doing its job."