---
Frost Lectureship traces mPV treatment's path from lab to clinical trial
A new drug is in phase 1 trials to evaluate the safety, tolerability, and early signs of efficacy in treating a potentially fatal chronic autoimmune disease.
---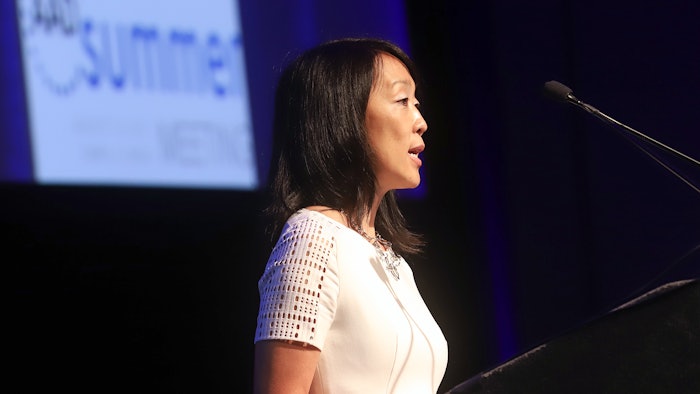 Perhaps nothing could be closer to mirroring and honoring the legacy of Phillip Frost, MD, than the recent innovations in dermatology pharmaceuticals.  
One of those is a drug by Cabaletta Bio — DesCAARTes™, which is currently in phase 1 clinical trial under the leadership of Aimee Payne, MD, PhD, FAAD, who provided new information about the drug when she presented the Eugene J. Van Scott Award for Innovative Therapy of the Skin and Phillip Frost Leadership Lecture, "Taking aim at autoimmunity with CAAR T cells" during Friday's Plenary (P151). The drug Dr. Payne discussed is designed to treat patients with the rare skin condition, mucosal-dominant pemphigus vulgaris (mPV).  
Dr. Payne is a professor of dermatology at the University of Pennsylvania and director of the Penn Clinical Autoimmunity Center of Excellence, and is also professor of dermatology at the University of Pennsylvania and director of the Penn Clinical Autoimmunity Center of Excellence.
"This is really a story of taking an idea from the lab to clinical trial," Dr. Payne said, "and inspiring physician scientists and clinical investigators in dermatology to do the same."
Mucosal pemphigus vulgaris is a rare and potentially fatal, chronic autoimmune disease characterized by the loss of adhesion between cells of mucous membranes. It leads to widespread damage, painful blisters of the mucosal membranes, and increased susceptibility to life-threatening systemic infections, according to Dr. Payne.
Patients diagnosed with the disease have few treatment options, creating an urgent, unmet need for more effective and durable therapies. Such therapies, Dr. Payne said, would provide reliable, complete, and persistent remission from the disease beyond general immune suppression and B cell depletion. 
The Phillip Frost Leadership Lecture recognizes innovation in the treatment of skin diseases and conditions, such as mucosal pemphigus vulgaris. DesCAARTes use of CAR T cell technology, developed at the University of Pennsylvania, meets the high "innovation" bar set by the Phillip Frost Leadership Lecture. The technology provides a unique, highly targeted killing profile that spares normal B cell population and reduces the risk of adverse events.
CAAR T cells selectively bind and eliminate only disease-causing B cells, while sparing the normal B cells essential for human health. CAAR T cells are based on the chimeric antigen receptor (CAR) T cell technology. While CAR T cells typically contain a CD19-targeting molecule, CAAR T cells express an autoantibody-targeted antigen on their surface. The co-stimulatory domain and the signaling domain of both a CAR T cell and a CAAR T cell launch the same activation and cytotoxic functions. Thus, CAARs are designed to direct the patient's T cells to kill only the pathogenic cells that express disease-causing autoantibodies on their surface, potentially resulting in complete and durable disease remission and preserving all other B cells necessary for fighting infection.
The phase 1 trial is an open-label, multicenter study of DSG3-CAART in adults with mucosal-dominant pemphigus vulgaris. The trial is designed to evaluate the safety and tolerability of DSG3-CAART as well as to identify evidence of target engagement and early signs of efficacy. The study examines dose escalation, consolidation, and cohort expansion at the final selected dose and schedule. 
"The discovery and development of engineered T cell therapies for patients with B cell-mediated autoimmune diseases is an important innovation that can lead to new treatments in other areas as well, including neurology and kidney disease," Dr. Payne said.