---
Oncodermatology pearls to provide relief for cancer patients
With today's growing list of oncologic therapies, adverse effects have expanded to include a wider array beyond hair loss.
---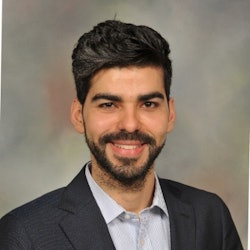 Hair loss has long been the most recognizable adverse effect of cancer treatment. Yet, with today's growing list of oncologic therapies, adverse effects have expanded to include a wider array of conditions that include the hair as well as the skin and nails.
Arming dermatologists with the best level of evidence and therapeutic pearls to manage common outpatient conditions associated with cancer treatment will be the focus of Friday's session, "The Skin of Cancer Patients: MASCC Supportive Oncodermatology Pearls for General Dermatologist (U007)." Speakers will spotlight real cases and outcomes, according to session director Azael Freites-Martinez, MD, IFAAD. Dr. Freites-Martinez is co-chair of the EADV Taskforce of Oncology for Cancer Patients, Dermatologists with a fellowship in oncodermatology at Memorial Sloan Kettering Cancer Center in New York, and is an associate professor at the Universidad Europea in Madrid.
"The most relevant adverse events in breast cancer patients, which is the leading cancer in the world among women, involve those attributed to cytotoxic chemotherapies usually given in breast cancer, stages II to IV," Dr. Freites-Martinez said. "This includes nail onycholysis, hand and foot syndrome, chemotherapy-induced alopecia, persistent alopecia after chemotherapy, and radiation-induced dermatitis."
Friday's session will separate the conditions by cancer type, examining those related to breast, lung, and colon cancer as well as melanoma. In colon and lung cancer, for example, adverse effects go beyond those associated with cytotoxic chemotherapies. They include acneiform rash, due to targeted therapy and novel immunotherapies (also given in melanoma), such as immune checkpoint inhibitors, and include maculopapular rash, itch, and other inflammatory skin reactions.
"For patients with lung cancer and melanoma, immunotherapy is often employed; therefore, pruritus and other dermatitides are quite frequent," said session co-director Emily Smith, MD, FAAD, assistant professor of dermatology and dermatopathology and program leader of the multi-disciplinary cutaneous oncology and oncodermatology program at the University of Missouri. "Patients with colon cancer and lung cancer treated with targeted therapies are more likely to develop papulopustular eruptions and complications of xerosis."
According to Dr. Smith, it's important that all patients undergoing systemic treatment for cancer ascribe to a good, consistent skin care routine. This includes sensitive skin care techniques, such as frequent emollient use. Photoprotection also is important, she said. In general, the eruptions that develop secondary to systemic cancer treatments are treated like their non-cancer treatment-related counterparts. Aggressive management is key to keeping toxicities at bay, improving the patient's quality of life and ensuring that treatment may proceed without interruption, she said.
Dr. Freites-Martinez said Friday's roster of session speakers will offer pearls that have been effective for their patients, including the use of lotions and creams with 10-15% lactate in melanoma patients receiving immunotherapies to prevent and treat skin dryness and itch, soaking nails in diluted white vinegar (rice vinegar) to treat and prevent common nail adverse events in breast cancer patients receiving cytotoxic chemotherapies, and the use of 5% topical minoxidil for persistent chemotherapy-induced alopecia and the one observed in breast cancer patients treated with endocrine therapies.
"Treat what you see," Dr. Smith said. "Patients with papulopustular eruptions often respond well to topical, oral antibiotic, and corticosteroid therapy. If they do not, always consider the possibility of a secondary infection."
Dr. Smith also recommended topical timolol gel-forming solution for relief of fissuring in patients with hand-foot-skin reaction secondary to targeted therapies, scalp and hand/foot cooling during infusions of cytotoxic chemotherapy to relieve the severity of anagen effluvium, palmoplantar dysesthesia, and nail changes associated with these therapies, and Aprepitant for immunotherapy-induced pruritus.