---
More than a head of hair
Addressing the stigma and challenges of hair loss and scalp disorders in diverse populations.
---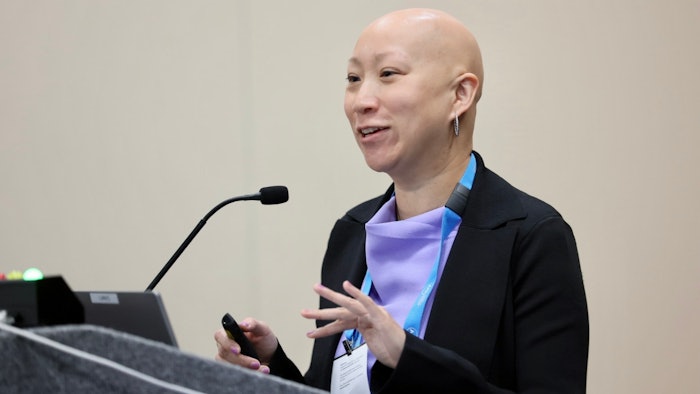 P025 – Managing Hair Disorders in a Diverse Population
There is much more to the keratin-based filamentous biomaterial that may, or may not, grow out of our heads. The Aug. 12 session at the 2023 Innovation Academy in Tampa, "P025 – Managing Hair Disorders in a Diverse Population," delved into the mainstream — and sometimes controversial — topic of hair disorders. In particular, the panel of speakers focused on hair and scalp conditions that affect diverse populations, including children and people with skin of color, and the immense impact these conditions can have on their lives — physically, mentally, and socially.
"Hair is often equivalent to one's identity," said Carolyn Goh, MD, FAAD, associate clinical professor in dermatology at the University of California Los Angeles David Geffen School of Medicine. "The cultural history and importance of hair shows the depth to which hair loss hits the core of many of our patients."
As session director, Dr. Goh kicked off the presentation by addressing the approach that both dermatologists and the public should take in considering culture and employing empathy with people challenged by hair loss.
Point of view: Public
Hair (along with hair trends) is an ongoing popular topic in product advertisements, fashion, entertainment, sports, and public settings. Some might suggest that most cultures and societies have an infatuation with hair. 
And although hair loss is publicly a known problem, having a hair disorder is more common, unique, and challenging than most people think, said Dr. Goh. And she would know. Not only is she a dermatologist that specializes in this area, but she has also had alopecia areata totalis since she was three years old.
Dr. Goh said hair loss is a subject that is not always treated with sensitivity. When a person's hair doesn't easily fall into a category of their peers or doesn't match what is often seen in the media, it's difficult, she said.
"[People] may not realize that hair loss is a medical issue and that there are treatments for them," said Dr. Goh.
It's important to note that both men and women suffer from hair loss, and some ethnicities are at higher risk for certain types of hair loss, she said. Additionally, hair loss is often treatable, but also may be irreversible. Dr Goh said hair loss symptoms are inconsistent and may be erratic. It can affect more than a person's hair, she said. It may be part of a larger medical condition
It's important for people who have hair loss to know that help is available, and they should be encouraged to seek appropriate medical care and advice.
Point of view: Dermatologists
Outreach to diverse populations is critical to ensure patients receive appropriate medical care. Genetics are an important factor in treating patients since reactions to different therapies can vary. However, it is equally essential for physicians to ask patients about their treatment preference.
"Practical differences exist between patients of different cultural backgrounds, such as hair texture and typical hair care practices," Dr. Goh said.
For example, Black women who have dense, tightly curled hair are unlikely to wash their hair every day. In these cases, Dr. Goh said she may prescribe topical minoxidil as an oil, which may work best for this patient population. Other patients may be inclined to use a topical solution, gel, or ointment
"Dermatologists can truly make a difference by understanding our patients' culture, showing empathy, and prescribing effective treatments," she said. "Cultural competence and empathy are intertwined, so gaining that knowledge and practicing more empathic care for our hair loss patients is a goal of ours."
Dr. Goh and her colleagues also touched on a few recent developments for hair disorders, including the use of JAK inhibitors to treat alopecia areata, platelet-rich plasma therapy, and other minimally invasive treatment options.
"We are still working out best practices for prescribing and managing these patients, but it is a very exciting time in this arena," she said.
Dr. Goh implored dermatologists to evaluate their processes and integrate additional understanding and advocacy into their care.
"Culturally competent health care can be defined as a patient-centered approach, which involves an awareness that cultural beliefs and backgrounds vary in our patients and influence their health," she said. "Taking this into account can help deliver higher quality care with better outcomes for our patients as well as better patient satisfaction."
The session included presentations from other expert speakers on the following:
Trichoscopy in skin of color: Michelle B. Tarbox, MD, FAAD
Scarring alopecia in men: Prince Adotama, MD, FAAD
Alopecia areata epidemiology and management: Paradi Mirmirani, MD, FAAD
Ethnic hair management: Cheri Frey, MD, FAAD
Hair loss in a gender diverse population: Ronda S. Farah, MD, FAAD
Central centrifugal cicatricial alopecia: Pearl E. Grimes, MD, FAAD
Hair restoration in a diverse population: Meena Kumari Singh, MD