---
Stepping up for the underserved
A. Paul Kelly Memorial Lectureship underscores dermatology's commitment to its communities.
---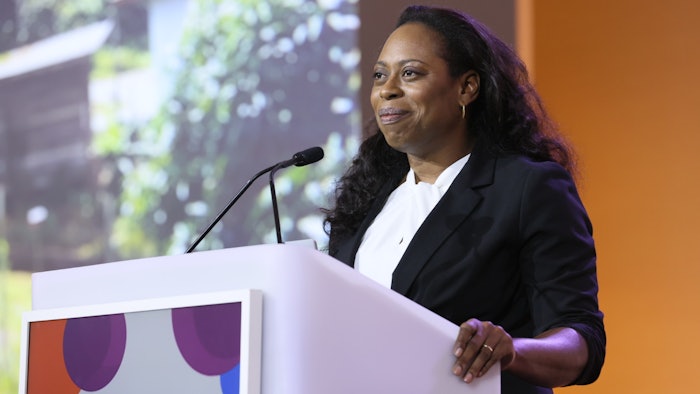 N001 – Named Lectureship Presentations: A. Paul Kelly Memorial Award and Lectureship: Access, Action, and Advocacy: Dermatologic Care in Underserved Communities
Dermatology differs from other medical specialties in many ways, but there is one thing it shares with most of them — the challenge of reaching underserved and underrepresented communities.
Ginette Okoye, MD, FAAD, professor and chair of dermatology at Howard University College of Medicine in Washington, D.C., highlighted those challenges — and some potential solutions — in Friday's "N001 – Named Lectureship Presentations: A. Paul Kelly Memorial Award and Lectureship: Access, Action, and Advocacy: Dermatologic Care in Underserved Communities." Dr. Okoye began with a nod to Dr. Kelly.
"Because I'm at Howard University, this award is particularly meaningful because Dr. Kelly and I share this part of our history," she said. "Dr. Kelly completed his medical school at Howard. There's a hallway where I walk past his picture every day. He was the chief at King/Drew Medical Center's Department of Dermatology and that was the only other dermatology department at a historically Black college, and it no longer exists. So, I feel like we are carrying that torch that he was such a big part of lighting."
Being at Howard, Dr. Okoye said, means that the patient population she serves is one that is typically underserved by the dermatologic community. And that, she said, has made her aware of the challenges in working with that population along with some useful solutions.
Missing meds
One of the biggest challenges Dr. Okoye has seen is helping patients get access to their medication.
"It's one thing for us to prescribe a medication, but it's a whole other thing when we see the patient back again three months later and they've never taken it because they never got it," she said, "whether that's because of limitations by their insurance, or — as we've discovered — more limitations in their psycho-social situation."
An example of those limitations might be patients with housing insecurity who may not get their biologic medications, which require refrigeration, because they simply have nowhere to store them.
"We discovered that many more of our patients than we knew had enough housing insecurity where they couldn't get a medicine that needed to be in a fridge, because it's a friend's fridge, or they were in a shelter," Dr. Okoye said. "Or this medicine is given every month and they might be living somewhere else next month, and they left the medication back at that previous place."
Ask questions
Dr. Okoye said patients were coming back after being prescribed the medication and they weren't getting better, so the doctors started asking questions. Those questions can provide their own set of challenges and must be presented in a specific way.
"You really have to ask in a way that makes people feel safe to tell you what's really going on their lives," she said.
The solution in this case, according to Dr. Okoye, was not to ask the patients to make changes in their lives, but rather for the doctors to make changes to meet the needs of the patients.
"We made some changes to our practice so that patients who have those challenges can have the medication shipped to us," she said. "We store the medication and they come in once a month or whatever the frequency is, we give them their medication, and they leave. That way we know that they've received it, the medicine is safely stored, and outcomes are better."
Dr. Okoye said she believes there is a tendency among some doctors to blame patients when they aren't taking their medication, but said that asking the right questions can change your perception of what is really going on.
"When patients aren't getting better, the first thing we tend to do as doctors is say the patient is not adhering to our therapies and they are not compliant," she said. "This was such a good lesson for us to really stop that train of thought and really talk to the patients and figure out what's happening. 
Appointment no-shows
Another problem among underserved and rural populations is high no-show rates for appointments. There are many studies that show these rates tend to be higher among African Americans and those with limited insurance, but Dr. Okoye said a closer examination shows there may be other factors at play.
"We conducted a study showing that many of our patients who didn't show were from a very specific part of Washington, D.C. — Ward 7 and Ward 8," she said. "These are areas in D.C. that have the lowest median household income. It's a food desert, it's a medical desert, there really isn't a lot out there. So those patients would have to take two buses or a bus and a train to get to us. And if they had an early-morning appointment and that bus was late, they would be an hour late to their appointment so they might decide not to go at all."
In this case, Dr. Okoye said the solution was not to keep trying to make those patients come to them, but to instead go to the patients.
"We opened a dermatology practice there in Ward 7 so that those patients didn't have to cross the city," she said. "And our show rates there were great. These are African American patients with Medicaid, so those were not the factors that were contributing to their show rates. It was just access."
"The challenges faced by the underserved and underrepresented are what drive the choices that we dermatologists make when we are trying to decide who we take care of and where we take care of them," Dr. Okoye said.