---
Hidradenitis suppurativa: Clinical pearls from your peers
Preparing for challenges.
---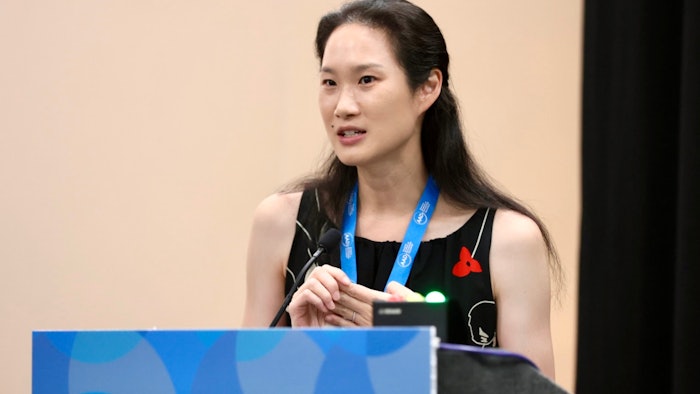 P011 - Hidradenitis Suppurativa: Case-Based Clinical Pearls
Dermatologists shared real-life examples, lessons learned, and management strategies for hidradenitis suppurativa (HS) during Friday's session, "P011 – Hidradenitis Suppurativa: Case-Based Clinical Pearls."
Jennifer Hsiao, MD, FAAD, associate clinical professor of dermatology at the Keck School of Medicine at the University of Southern California in Los Angeles, led the session about this common, chronic, inflammatory condition, including HS and pregnancy. Women who have HS and are pregnant or trying to become pregnant require careful monitoring and possibly even treatment escalation, Dr. Hsiao said.
"Based on findings in literature, about a quarter of pregnant patients with HS may experience improvement in their HS symptoms during pregnancy," she said. "However, for the rest, HS symptoms may be unchanged or even worsen during pregnancy. It is important to be able to have a discussion regarding benefits and risks of HS treatments during pregnancy with these patients."
Dr. Hsiao was joined by a panel of speakers, including Maria Aleshin, MD, FAAD; Natalie Fragoso, MD, FAAD; Noah Goldfarb, MD, FAAD; Steven Daniel Daveluy, MD, FAAD; Joslyn S. Kirby, MD, FAAD, and Lauren Orenstein, MD, FAAD. These HS experts examined how to approach and manage this challenging disease, each presenting on a particular aspect and answering questions on real-life cases.  
HS and more
Over the last decade, dermatologists have learned more about how to help patients who suffer from HS. One area of advancement is recognizing that these patients are at an increased risk of comorbidities that can have an impact on treatment selection and outcomes. Many of these conditions are also inflammatory, such as inflammatory bowel disease, arthritis, or pyoderma gangrenosum. Dr. Goldfarb, assistant professor of dermatology at the University of Minnesota, shared tips on management of patients with multiple inflammatory conditions, including HS.
Covering all the bases
With HS being a prolonged, recurring, and often recalcitrant disease, creating a treatment plan and monitoring pain symptoms can be a complex process. For patients with moderate-to-severe disease, Dr. Hsiao recommended presenting patients with long-term therapeutic options, such as biologics, other immunomodulators, and/or surgical procedures as appropriate. Combining these with additional medical therapies, such as systemic antibiotics, hormonal treatments, metabolic therapies, or oral retinoids can also be helpful in managing difficult cases.
Dr. Kirby, associate professor of dermatology and vice chair for education at Pennsylvania State University in University Park, presented ways to approach patients with recalcitrant disease and offered different strategies when physicians are confronted with treatment failures. Another important cornerstone of HS management is procedural therapy, and Dr. Aleshin, clinical professor of dermatology at Stanford University School of Medicine, delved into procedures that dermatologists can perform in their office for HS.
"Targeting the inflammation in HS, such as with systemic antibiotic and biologic therapy, can be helpful, but patients may still experience pain despite HS-directed therapies," said Dr. Hsiao.
Dr. Orenstein, an assistant professor of dermatology at Emory University in Atlanta, discussed her approach to HS pain management. Gabapentin, SSRIs, and other agents may help give relief for patients with chronic pain. Referring patients to a pain specialist is another option to consider. It is important to try to understand each patient's individual needs and customize therapy to help them.
Hope on the horizon
Although important developments have been made in recent years, the speakers insisted there is still work to be done on how to improve patient outcomes. Dr. Fragoso, a Lebanon, New Hampshire dermatologist, shared examples of several therapies that are currently being investigated, such as JAK inhibitors, IL-1 inhibitors, and IL-36 inhibitors. In addition, secukinumab (IL-17A inhibitor) and bimekizumab (IL-17A and F inhibitor) both had successful phase 3 trials.
"It is a very exciting time for HS with new treatments on the horizon," Dr. Hsiao said. "Hopefully, this will translate into more therapeutic options that are safe, efficacious, durable, and accessible for our patients who have this oftentimes debilitating condition."