---
What we've learned about psoriatic arthritis
Everett C. Fox Memorial Lectureship traces the path to improvement in patient care.
---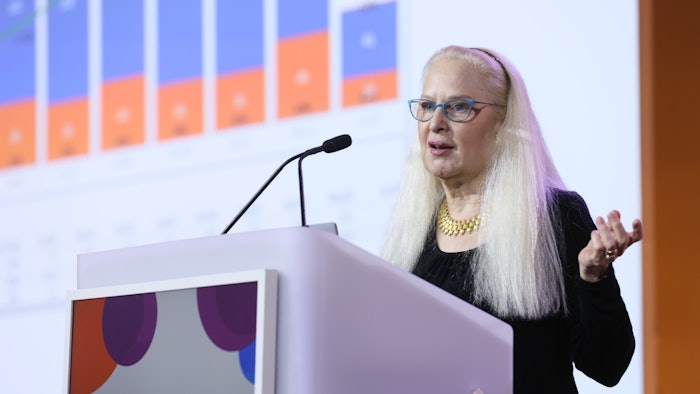 N001 – Named Lecture Presentations: Everett C. Fox MD Memorial Award and Lectureship: The Critical Role of the Dermatologist in the Treatment of Psoriatic Arthritis
Evaluating data from patient-reporting tools can significantly improve symptom management, disease progression, and quality of life for people diagnosed with psoriatic arthritis. That was the message from Everett C. Fox MD Memorial Award recipient Alice B. Gottlieb, MD, PhD, FAAD, during Friday's "N001 – Named Lecture Presentations: Everett C. Fox MD Memorial Award and Lectureship: The Critical Role of the Dermatologist in the Treatment of Psoriatic Arthritis." Dr. Gottlieb is clinical medical director at Mount Sinai Union Square in New York City and founder and president of the International Dermatology Outcome Measures (IDEOM) group.  
During her lecture, Dr. Gottlieb emphasized the role dermatologists play in screening for and treating cases of psoriatic arthritis. Using patient-reported tools during the screening phase is key to customizing plans that treat patient-reported targets.
"Effective screening by dermatologists allows for the early detection of PSA," she said. "Early treatment of PSA and treating to target for PSA have been demonstrated to result in better clinical outcomes, a better quality of life, and less disability."
Forging the path
For the last 30 years, AAD has selected a leading clinical dermatologist to receive an award and give a lecture in honor of Everett C. Fox, MD, who was a practicing clinician in Texas and was vice president of the American Academy of Dermatology in 1946.  Dr. Gottlieb's work in this specialty has been far-reaching and groundbreaking. Several firsts that she's accomplished include:
Demonstrating that psoriasis was not merely a keratinization disorder, but also an immune-mediated disease
Proving that TNF blockers when used as a monotherapy can clear psoriasis
Establishing dermatology as a field for biologics development
In short, Dr. Gottlieb has been a forerunner in shifting how clinicians understand, identify, classify, and study psoriasis as well as improving the treatment options for patients who have psoriasis. She has also completed considerable research in psoriatic arthritis (PSA) — as reflected in her presentation — vitiligo, hidradenitis suppurativa, cutaneous lupus, and other immune-mediated disorders.
Fortifying the future
Dr. Gottlieb concluded her lecture with several bold and promising projections for the field. She believes that dermatologists will be able to predict which psoriasis patients will develop psoriatic arthritis and, of those, which ones will likely experience joint damage. She also wants dermatologists to learn how to use ultrasound as a method to identify early signs of enthesitis, which is often the earliest sign of psoriatic arthritis.
"Dermatologists are in the best position to make a diagnosis of early psoriatic arthritis given that 84% of patients have psoriasis 10-12 years before they develop PSA," said Dr. Gottlieb. "Additionally, there are data to show that treatment of psoriasis with biologics before patients have any evidence of PSA results in a lower incidence of future PSA compared to control treatments not using biologics."
Looking forward, Dr. Gottlieb said she will monitor advancements in gene therapy and how it will affect genodermatoses management as well as how artificial intelligence will play a role in the practice of dermatology. She is also hopeful that the expansion of biosimilar drug use will increase access and decrease the cost of biologics and other more expensive drugs.
Dr. Gottlieb expressed her gratitude to AAD, its leadership, and its membership for the renowned recognition. As a board-certified physician in not only dermatology but also rheumatology and internal medicine, Dr. Gottlieb has authored approximately 500 peer-reviewed articles and has presented her research at more than 350 medical conferences around the world.
"I am grateful to my wonderful husband for his encouragement," she said. "As a first-generation American and daughter of a widowed Holocaust survivor, I am also grateful for my family's support and am proud of my accomplishments. I wish my mother Eva Schenk, of blessed memory, could see this special day, but I am thinking of her."