---
Pediatric AD guidelines call for early peanut introduction
Closing a knowledge gap for dermatologists.
---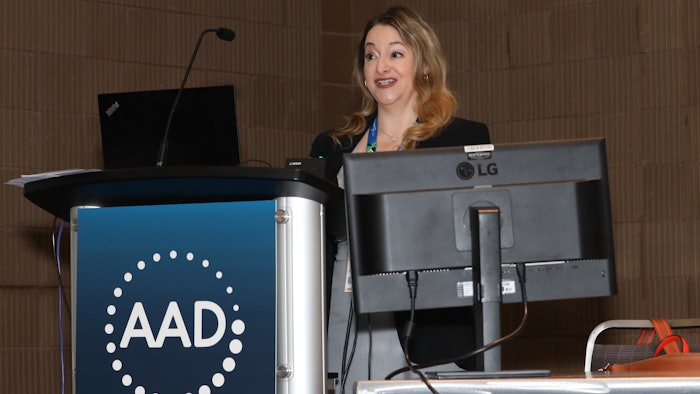 U058 – Preventing Food Allergy in Pediatric Atopic Dermatitis: Applying the New Guidelines to Your Practice
Nearly one-third of children with atopic dermatitis have a comorbid food allergy. Current food allergy guidelines call for the introduction of foods containing peanuts between the age of two and six months to prevent the development of peanut allergy. Easy to suggest, but not always implemented.
"This can be a knowledge gap for dermatologists," said Lacey L. Kruse, MD, FAAD, associate professor of pediatrics-dermatology at Northwestern University Feinberg School of Medicine in Chicago. "Not every dermatologist thinks about food allergies in their practice. The window of intervention for prevention of food allergy is very early — four to six months — so we need to be proactive if we are to succeed in preventing these food allergies in babies with eczema."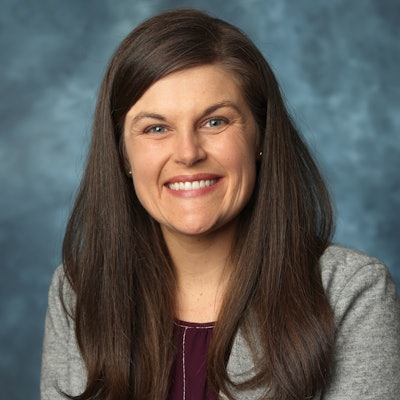 Dr. Kruse directed the March 19 session, "U058 – Preventing Food Allergy in Pediatric Atopic Dermatitis: Applying the New Guidelines to Your Practice" during the 2023 AAD Annual Meeting. Even though allergy societies in the U.S. and Canada published a consensus guideline in 2021 emphasizing early introduction of peanuts, not all dermatologists have turned recommendations into routine practice.
Early peanut introduction
"The 2017 NIAID guidelines stratify children by risk, advising early peanut introduction in children with severe eczema who are deemed highest risk for food allergy, and advised testing prior to peanut introduction," said Rachel Glick Robison, MD, associate professor of pediatric allergy/immunology/pulmonary medicine at the Monroe Carrell Jr. Children's Hospital at Vanderbilt University in Nashville, Tennessee. "However, seeing an allergist and testing prior to peanut introduction isn't always practical and may not be necessary in all children. Newer consensus recommendations from our national allergy organizations advise peanut introduction at between four to six months of age in all infants, not just those at high risk, and downplay a need for screening prior to introduction."
Reassuringly, most reactions to an initial introduction of peanuts are mild, she added. Introducing peanuts at home between four and six months is safe for most children.
"It often takes a long conversation with parents because so many parents are concerned that their child will have a food allergy," Dr. Robison said. "It is a matter of really listening to parents' concerns and explaining what a food allergy is. I also like to highlight the limitations of our allergy testing, which is far from perfect."
Food challenges for challenging foods
Both skin tests and serum-based immunoglobin (IgE) testing for specific food protein antibodies have a good negative predictive value but they tend to have a high false positive rate, she explained. The gold standard for food allergy diagnosis is a food challenge, which is not practical given the limited supply of allergists and the high number of children with eczema.
"Not everyone has a comfort level even managing atopic dermatitis in these young babies, let alone venturing into what they are eating," Dr. Kruse said. "But there is very solid data that introducing peanuts is a safe approach. We can reduce the risk of later peanut allergy up to 87% by introducing peanuts early in these high-risk patients. Instead of worrying about the child encountering peanuts sooner or later, you're introducing peanuts during the safest window, four to six months of age."
Atopic dermatitis in infancy is typically the first manifestation, followed by food allergy, then allergic rhinitis and asthma. Every dermatologist has seen diagrams of the Atopic March, Dr. Kruse noted.
"If you look carefully, the peak of eczema is a few months before the peak of food allergy," Dr. Kruse explained. "That's the window for intervention we're talking about by introducing these foods early, after babies develop eczema but before they have developed the food allergies." 
Dermatologists may therefore see children with eczema earlier than allergists do, making their participation in early peanut introduction particularly relevant, Dr. Robison added.
"Time is of the essence for intervening with these kids," she said. "Dermatologists should feel comfortable advising parents that early peanut introduction is a safe and effective approach in preventing the development of peanut allergy. Most children with even moderate eczema can introduce peanuts at home without the need for screening. If a reaction were to happen, it is unlikely that it would be more than mild on that initial introduction. Children with truly severe eczema are the ones who will benefit from getting an allergist involved to help navigate food introduction."
Visit AAD DermWorld Meeting News Central for more articles.