---
Beyond the familiar
Stay alert for more serious DRESS and DIHS contraindications.
---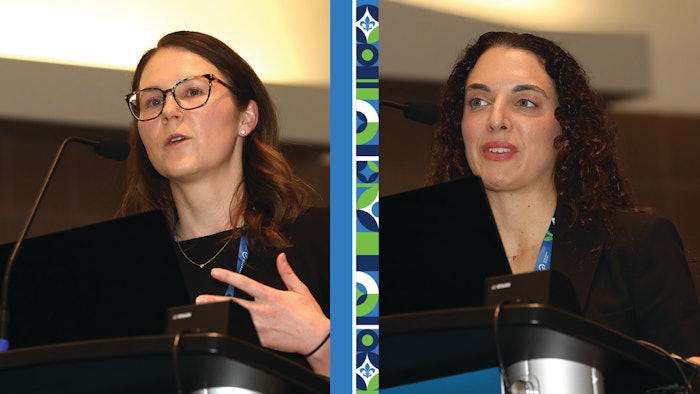 U068 - Beyond Skin Deep: Practical Tips on Management of DRESS/DIHS
Drug reaction with eosinophilia and systemic symptoms or drug-induced hypersensitivity syndrome, more commonly known as DRESS/DIHS, was the focus of a new session on March 19, "U068 – Beyond Skin Deep: Practical Tips on Management of DRESS/DIHS," presented at the 2023 AAD Annual Meeting in New Orleans.
One of the biggest challenges, as revealed in the session, is prompt diagnosis, according to Maria Aleshin, MD, FAAD, clinical associate professor of dermatology at the Stanford University School of Medicine in California. Symptoms typically begin two to six weeks after a culprit drug is started, she said.
"The two acronyms DRESS and DIHS are oftentimes used together or interchangeably," said Dr. Aleshin. "We all may encounter the symptoms whether we're practicing in the outpatient setting or the hospital. DRESS/DIHS is classified as a severe cutaneous adverse reaction (SCAR) and can have a high mortality rate, up to 10%. It's a condition that we dermatologists need to recognize and feel comfortable managing."
The root cause
Dozens of drugs have been identified as causing DRESS/DIHS, according to Silvina Pugliese, MD, FAAD, clinical associate professor of dermatology at the Stanford University School of Medicine. The most commonly implicated medications are antiepileptics, the antigout agent allopurinol, antibiotics, and antivirals. The clinical presentation is highly variable and can be characterized by an extensive skin rash, atypical lymphocytes, lymphadenopathy, eosinophilia, and visceral organ involvement, including but not limited to the liver, kidney, or heart.  
"It's important to have a high degree of suspicion for DRESS/DIHS in the appropriate clinical context," Dr. Pugliese said. "Distinguishing features from a morbilliform drug rash may include facial swelling, fever, and abnormal labs. A thorough drug history is crucial, as patients may not link a medication started over a month ago to their current skin eruption." 
Patients undergoing cancer treatment need particular attention if DRESS/DIHS is involved. BRAF inhibitors, when administered after checkpoint inhibitors, can induce a fast (less than two weeks) onset of a DIHS-like reaction, with a nuanced clinical presentation when compared to classic DIHS.
Treatment decisions
"Discontinuation of the offending agent as quickly as possible is crucial to the management of DRESS," Dr. Aleshin said. "Unfortunately, beyond that, there are no randomized trials or evidence-based clinical guidelines on how we should be managing DRESS."
"When patients have DRESS that is predominately limited to the skin with very mild lab abnormalities, we can sometimes treat with topical steroids alone, though close clinical and laboratory monitoring is required in these cases," Dr. Aleshin said. "When patients have more severe internal organ involvement, we usually rely on systemic steroids with dosing and duration of treatment often guided by the severity of patients' presentation. But there are circumstances when patients don't adequately respond to steroids or have contraindications to steroids and require a second-line therapy."
One such second-line agent is intravenous immunoglobulin (IVIG). However, there is little data to support its use, and studies are conflicting regarding its efficacy. Cyclosporine has been used both as a first-line treatment of DRESS in patients with contraindications to systemic steroids as well as second-line agent in patients who don't adequately respond to systemic steroids. Dr. Aleshin said she has had favorable results using cyclosporine for her patients with severe cases of DRESS. However, close monitoring of these patients is needed, given the risk of infection. Similarly, mycophenolate mofetil is another steroid-sparing agent that is occasionally used. However, literature supporting its use is limited.
"There have been case reports using tofacitinib, a JAK (Janus kinase) inhibitor, for managing patients with severe, refractory DRESS," Dr. Aleshin said. "And there have also been a few reports of mepolizumab, an IL-5 inhibitor, but data for both these agents are limited and further studies are needed."
Other complications
There are also documented autoimmune sequelae that can present a few months to several years after what appears to be successful resolution of DRESS. Complications include autoimmune thyroiditis, alopecia totalis, and type 1 diabetes, among others. Autoimmune thyroiditis is the most common complication, Dr. Aleshin said, and all DRESS patients should undergo periodic thyroid evaluations as well as long-term monitoring for signs or symptoms suggestive of other autoimmune diseases.
"It is important for patients to know that DRESS can be fatal," Dr. Pugliese said. "In addition to monitoring the rash on their skin, they should be on the lookout for any new worrisome systemic symptoms and seek prompt evaluation." 
Visit AAD DermWorld Meeting News Central for more articles.