---
From 17 to 20,000: New president accepts challenge of Academy's 85-year growth
Dr. Cronin addressed member needs during the Plenary.
---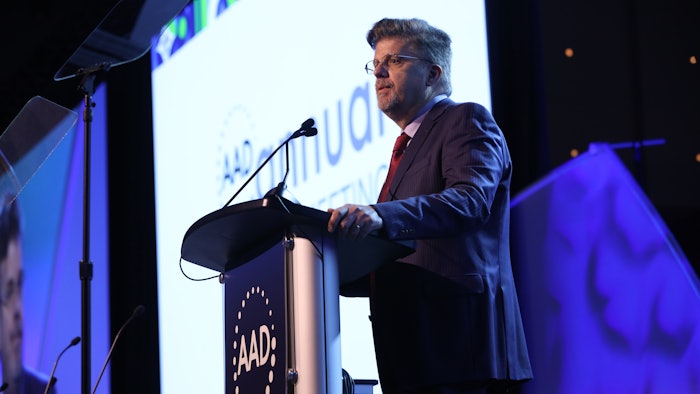 In his recent address at the Plenary session on March 19, Incoming AAD President Terrence A. Cronin Jr., MD, FAAD, chronicled and lauded the history of the American Academy of Dermatology from its humble beginnings in 1938 to a large, influential group of 20,000 members today. Dr. Cronin said he was ready to advocate for the needs of those 20,000 as he became the 85th president of the Academy.
"It's an honor to stand before you today and lead this Academy that represents more than 20,000 dermatologists," Dr. Cronin said. "We continue to advance education and standards of care and provide health, healing, and hope for millions of Americans."
Dr. Cronin, taking note of history and the significance of his predecessors in his address, quoted wisdom from past presidents Clarence Livingood, MD (1967), John Haserick, MD (1973), and John Shaw, MD (1977). Following in this legacy, Dr. Cronin added a quote of his own for 2023:
"The best dermatologists are kind ones. When we're unified, and stand together, we can't be stopped. And if you are asked to serve the Academy, don't say no."
Dr. Cronin called for a strong and vital future for the organization, and promised to advocate hard for members, stating, "The Academy is a place not just where we can meet colleagues and share research and education, but where we can advocate on behalf of dermatologists, push back on the insurers and regulators who try to control us, and ensure that we protect our patients and the care we provide." Dr. Cronin stated that Medicare reform would be the Academy's top priority in 2023.
Issuing a collective call to action for all members, Dr. Cronin said retreat in the face of adversity is not an option, nor will the Academy go it alone.
"There's too much at stake — for our patients and for our specialty," he said. "My goal over this next year is to make sure that dermatologists around the country can continue to find the joy in seeing patients and can make a difference to the many people and their families who are counting on us."
Visit AAD DermWorld Meeting News Central for more articles.