---
New approach uses microbiome to treat skin disease
Rather than reducing skin inflammation, repair the injured skin microbiome that allowed inflammation to flare in the first place.
---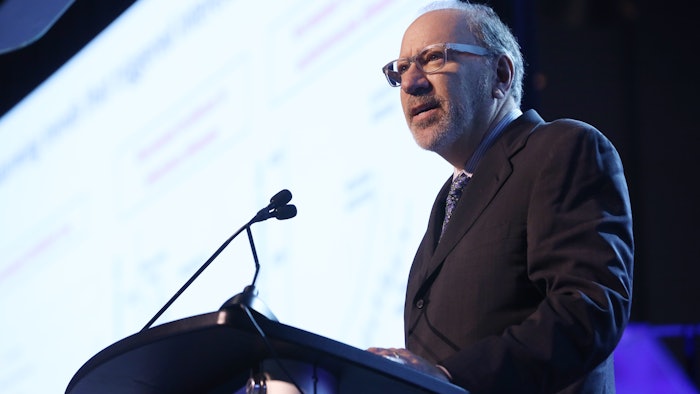 Dermatologists have been looking for new ways to treat atopic dermatitis (AD) for decades. Rather than reducing skin inflammation alone, is it possible to repair the injured skin microbiome that allowed inflammation to flare in the first place?
"What is needed for a cure is not just immune suppression, but the reestablishment of a healthy skin microbiome," said Richard L. Gallo, MD, PhD, FAAD, distinguished professor, Irma Gigli chair, and founding chair of Dermatology at the University of California San Diego. Dr. Gallo explored a new model for AD during his Eugene J. Van Scott Award for Innovative Therapy of the Skin and Phillip Frost Leadership Lecture Human Skin Commensal Microbes for Bacteriotherapy of Atopic Dermatitis during the "P151 – Plenary" on Sunday. "There is an atopic holobiont — the community of host and the many other species living in or around it — that can be modified using bacteriotherapy (the application of therapeutic bugs) to reestablish a healthy holobiont and more effectively treat disease." 
New findings suggest AD develops and flares when the skin microbiome is perturbed due to environment, allergens, stress, antibiotics, and other factors. Overgrowth of pathogenic species drive cycles of inflammation that manifest as AD. 
Genomes and microbiomes
"Increased antibiotic use starting in the 1970s and 1980s resulted in a welcome decrease in the incidence of infectious disease but also the alarming rise in autoimmune disease," Dr. Gallo said. "The Human Genome Project, the NIH Human Microbiome Project, and other efforts found that while the human genome has around 23,000 genes, the human microbiome has more than 1 million genes. Health and disease result from a complex interplay between host and microbiome that we are just beginning to understand and explore." 
The gut microbiome has garnered significant attention, he said, but the skin is the largest human interface with the environment and microbiota. More than 100 species of bacteria are protected within follicles alone. Skin health is the interplay between the epidermis, bacteria living on and within the skin — that act on each other as well as on the host and host immune system — and the immune system, which affects both epidermis and microbes. 
The role of peptides
The skin produces its own antimicrobial peptides (AMPs) to help control pathogenic species. Beneficial species also control their pathogenic competitors. AD features an overgrowth of both S. aureus and S. epidermis. Patients with AD have deficient AMP production, allowing pathogenic growth. S. aureus and S. epidermis toxins cause barrier disruption and allergic sensitization. 
The same bacteria promote Th2 inflammation, at least in part by amplifying IL-4, a proinflammatory cytokine. Patients treated with an IL-4 receptor inhibitor such as dupilumab show a reduction in S. aureus and inflammation. 
Reestablishing healthy skin
Antibiotic therapy only exacerbates an already imbalanced skin microbiome, Dr. Gallo noted. Bacteriotherapy can move the skin microbiome toward healthy homeostasis. Phase 1 trials of S. hominis A9 isolated from healthy skin demonstrated safety and showed indications of therapeutic effect. 
"You're not blowing away the skin microbiome with bacteriotherapy. You are reestablishing the balance of a healthy epidermis," Dr. Gallo said. "Antimicrobials from the host and a normal skin microbiome control disease in atopic dermatitis. We don't have a therapy yet, but work is moving in the right direction."