---
Lifting the veil
Getting comfortable with patient anogenital exams.
---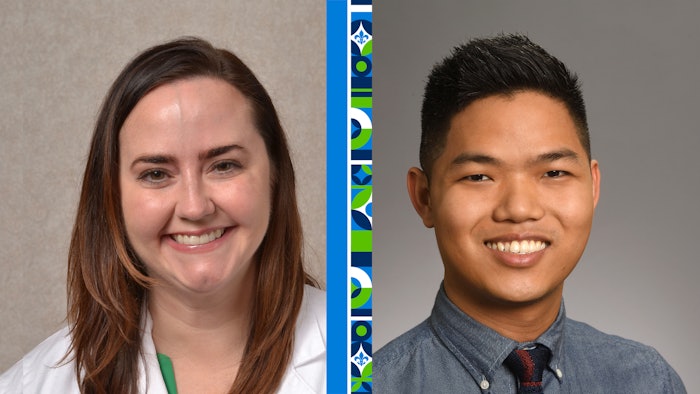 F058 – Turning Confusion Into Confidence: A Dermatologist's Guide to Genital Dermatoses and Gender Identity
Do you routinely include anogenital areas in your skin exams? Too many dermatologists don't even ask about genital exams; even fewer patients request it.
"Even though I ask every single patient, maybe 10-15% ask to have me check their genitals," said Kelly Tyler, MD, FAAD, associate professor of dermatology at The Ohio State University Wexner Medical Center in Columbus. "Even if they have a concern, they don't always bring it up. It's an area that embarrasses so many people, including some dermatologists."
Dr. Tyler directed the March 18 session, "F058 – Turning Confusion Into Confidence: A Dermatologist's Guide to Genital Dermatoses and Gender Identity," which guided dermatologists in treating anogenital skin diseases. Session presenters addressed dilemmas created when patients, clinicians, or both feel intimidated or awkward with genital skin diseases.
Respectful encounter essential
"Normalizing taking sexual history, establishing patient preference for the exam timing and process, conducting the exam 'with' the patient, offering a chaperone, and explaining normal anatomy and pathologic processes are all important elements of a respectful and effective encounter," said Howa Yeung, MD, MSc, FAAD, assistant professor of dermatology at Emory University School of Medicine in Atlanta.
"This is especially important for transgender and gender-diverse patients. Some patients may experience gender dysphoria related to their genital exam," he said. "Some patients may have experienced prior sexual trauma, and some may have received gender-affirming surgical care. Some patients distrust health care due to prior experiences of stigma and discrimination. It is important to ensure that all patients feel safe, have control of their body, and are offered respectful options for their care."
Common genital presentations
Lichen simplex chronixua, an ongoing itch-scratch cycle, is common on genital skin, Dr. Tyler said. The expected thickening and discoloration of the skin may be less pronounced on modified mucus membranes such as the labia minora or the clitoral hood compared to the hair-bearing skin of the vulva.
Lichen planus typically presents with purple polygonal papules on non-genital skin but is ulcerative on the vulva.
"Patients are going to get erosions, ulcerations, and scarring, a completely different presentation even though it's the same disease," Dr. Tyler said. "And for someone who doesn't examine the genitals routinely, you may mistake a normal anatomic variant for something abnormal."
Papillomatosis, small projections at the vaginal introitus, can be mistaken for warts. Pearly penile papules, similar projections off the glans of the penis or the corona, can also be mistaken for warts.
Variations
"There are also variations in pigmentation, often a darker pigmentation on the labia minora, that patients and other physicians may think is abnormal," Dr. Tyler continued. "There are normal variants of sebaceous glands that can be mistaken for genital warts. Reassuring patients that they have perfectly normal variations in anatomy and not a disease can make a huge difference in their life."
Dermatoses may also respond differently on genital skin. Hair-bearing genital skin may show stria or thinning in response to more potent topical steroids. Dr. Tyler recommended lower potency topicals or possibly calcineurin inhibitors such as tacrolimus for hair-bearing areas and groin folds.
Conversely, modified mucus membranes such as the labia minora and clitoral hood tend to respond better to more potent topicals.
"Common conditions such as lichen sclerosus respond much better to potent steroids such as clobetasol," she said. "You don't want to give patients a lower potency that isn't going to treat their disease adequately. You have to follow diseases on genital skin closely, prescribe a potent agent when appropriate, and make sure patients are using it correctly. Even if you give patients with diseases like lichen simplex chronicus the right topical steroid and they stop using when they feel better, they're going to rebound. You have to stay on top of it."
Know your anatomy
Patients who have received gender-affirming surgery, such as metoidioplasty, phalloplasty, or vulvoplasty, also need special attention.
"It is important to recognize the normal anatomy of the neophallus or the neovagina/vulva," Dr. Yeung said. "The most common postoperative complications are urethral stricture, vaginal stenosis, and infection. Terminal hair removal using electrolysis or laser on the donor site preoperatively may reduce the risk of complications."
Irritant and allergic contact dermatitis are also common problems, he added. Transgender women commonly present with HPV-related neoplasia. It is important to offer routine HIV and STI screening, particularly for patients presenting with genital skin diseases.
"We have to normalize talking to our patients about genital skin diseases and adopt a patient-centered, trauma-informed approach to genital skin exams," Dr. Yeung said. "It is more important than ever to apply our expertise in treating genital skin and mucus membrane diseases to diverse patients."
Other presenters at the new AAD session included Jessica Amie Kaffenberger, MD, FAAD, who gave updates in the diagnosis and management of hidradenitis, and John Christopher Trinidad, MD, MPH, FAAD, who presented on the topic of penile dermatoses.
Members who want to learn more about performing genital skin exams and earn CME for doing so can access a new course in the AAD Learning Center.
Visit AAD DermWorld Meeting News Central for more articles.