---
Hair dos and style don'ts
Cultural, health, and other factors in Black women's hair examined
---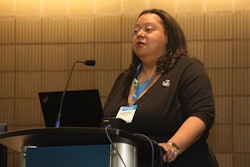 Black hair is unique, often dense, and tightly curled. That distinctive hair has contributed to distinctive cultural preferences, styling practices, and hair care products. It puts a similarly distinctive stamp on alopecia and other familiar hair and scalp disorders.
"It is important that we are prepared to care for a diverse patient population," said Victoria Barbosa, MD, MPH, MBA, FAAD, associate professor of dermatology and director of the Hair Loss Program at University of Chicago. "Particularly when you're talking about hair and scalp disorders, there isn't a lot of information about cultural practices that we learn in textbooks. For Black women, in particular, there are different styling practices and grooming habits that play a role in diagnosis and management as well as in their overall health."
Dr. Barbosa directed the March 18 session, "U050 – Hair Care, Hair Loss, and Health in Black Women," with a deep dive into the not-always clear connections between cultural practices, scalp and hair health, and overall health.
Hair habits 
Differences start with grooming habits. Dense, curly hair doesn't need shampooing every day or even every week, Dr. Barbosa said. Many Black women shampoo every other week, depending on their hairstyle. This can affect dermatologic treatment choices.
"If a dermatologist suggests that a Black woman put a medication on the scalp, and that it should be rinsed out every morning, that's probably not going to happen," Dr. Barbosa said. "It is important that we tailor treatments to the patient."
Styling is another key point. Sewn-in weaves, wigs, and complex hair styles can limit a scalp exam. Patients should be asked to come to their appointments with their hairstyles in a manner that allows a full scalp examination. It is important to ask about the patient's hairstyling, including wigs and extensions, before starting an exam to avoid surprises.
Styling also plays a role in diagnosis. There is a common assumption that a Black woman with hair loss at the front hairline has traction alopecia. Tight braids and cornrows can generate traction alopecia, but hairstyling is not the only cause of hair loss in this area.  
"You also have to think 'could this be frontal fibrosing alopecia?'" Dr. Barbosa said. "Traditionally, FFA was thought to be seen primarily in white women, but experience tells me we were just misdiagnosing some Black women. You also have to think about ophiasis pattern alopecia areata."
Listen to evaluate and treat
A good diagnosis starts with the patient, she continued. For instance, if there is obvious hair loss at the front hair line, but the patient says no, she never wore braids, wigs, or any other style that might induce traction, then you need to broaden your differential.
"Start by listening to the patient and do a thorough exam," Dr. Barbosa said. "A dermatoscope can help you narrow your differential, and you might need to biopsy to confirm a diagnosis."
Mimicry works both ways. Alopecia areata is usually easy to identify from the coin-shaped patches of alopecia. But traction from braids or other hair styles can cause similar patchy hair loss on the scalp.
Alopecia areata at the crown can be mistaken for central centrifugal cicatricial alopecia (CCCA), and vice versa. CCCA is accompanied by follicle loss and scarring and alopecia areata is non-scarring, so dermoscopy can help distinguish the two.
Or is it lichen planopilaris? LPP can look very similar to CCCA, Dr. Barbosa said. CCCA is very common in Black women, and LPP much less common, but LPP remains a distinct possibility when examining a scarring alopecia.
"I always encourage people to perform a biopsy when they suspect a scarring alopecia," Dr. Barbosa said. "Sometimes there are clinical clues, but a biopsy can help differentiate between conditions like CCCA and LPP. And that's important because these conditions behave differently, and our treatments differ. It's important to make the right diagnosis." 
Visit AAD DermWorld Meeting News Central for more articles.