---
Taking a closer look
Tips for treating skin conditions among Asian population.
---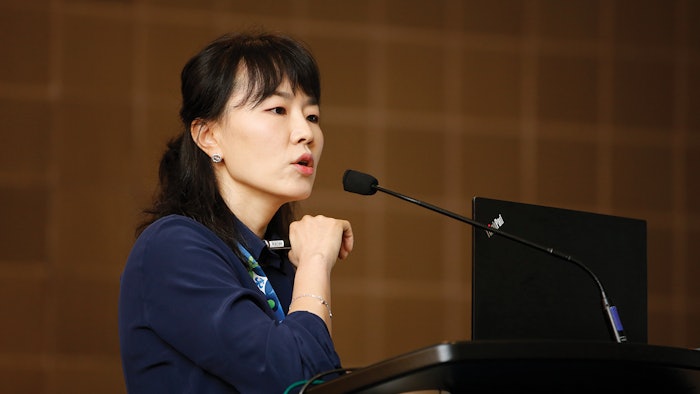 The advice was simple. Take extra care when treating dermatologic conditions in patients with Asian skin, said Hye Jin Chung, MD, FAAD, assistant professor of dermatology at Harvard Medical school in Boston. Dr. Chung's cautious counsel was the foundation of Friday's session, "U010 – Managing Unique Conditions in Asian Skin."
A large population with a broad range of conditions
In directing the session, Dr. Chung explained the importance of being attentive to the differences in Asian skin. The Asian population currently constitutes a majority of the global population, comprising nearly 60%. In the U.S., the number of people who identify as Asian is expected to grow to 41 million by the year 2050. In Canada, 25% of the population is expected to be Asian by 2036. Thus, as North America's Asian population increases, the demand for experienced dermatologic care for Asian skin will increase. Specifically, according to Dr. Chung, dermatologists must become more familiar with the diagnosis and treatment of common medical conditions and cosmetic concerns.   
"Asian skin is known to have higher skin irritability to topical agents. Thus, it is important to counsel patients on how to use certain medications which can cause irritation, such as topical retinoids, hydroquinone, etc.," Dr. Chung said. "For example, it is important to start lower concentrations of topical agents and provide patient counseling on using moisturizer and gentle skin care for Asian patients."
Pigmentary and scarring considerations
Certain pigmentary and scarring disorders are common in patients with Asian skin, according to Dr. Chung. For example, melanocytes in Asian skin respond to visible light differently than in the white population. Pigmentation induced by visible light is darker and more sustained. Additionally, there is a strong genetic predisposition for keloid formation. Individuals of skin of color, including Asian ancestry, are particularly prone, she said. Dr. Chung recommended fluorouracil/steroid injections, fractional ablative laser assisted drug delivery, or pulsed dye laser when intralesional steroid injections fail for keloids or hypertrophic scars. She also discussed a detailed technique of keloidectomy with a fillet flap. 
Asian perspective 
Dr. Chung also invited three experts from Asia to present at the session. Regarding pigmentary disorders, Woraphong Manuskiatti, MD, from Thailand recommends picosecond laser treatment for melasma, nevus of Ota, and Hori's nevus. Davinder Parsad, MD, IFAAD, from India reviewed recent advances in the management of pigmentary disorders (autologous non-cultured epidermal cell suspension for vitiligo, and medical and laser treatment for acquired dermal macular hyperpigmentation).
When treating patients with Asian skin, Jihee Kim, MD, PhD, from Republic of Korea encourages dermatologists to be aware of anti-aging procedures, which are popular in Asia. Dr. Kim said superficial dermal injection of neuromodulator (with or without hyaluronic acid intradermal injection), and injection of poly-D,L-lactic acid or polynucleotide are popular and effective anti-aging procedures.
Finally, Dr. Chung said, don't forget the importance of sunscreen for people with Asian skin.
"Sunscreen with visible light blocker is very important for Asian skin-typed patients with hyperpigmentation (melasma, post-inflammatory hyperpigmentation, etc.)," she said.     
Visit AAD DermWorld Meeting News Central for more articles.