---
Headed in the right direction
Novel therapies for alopecia areata are on the rise.
---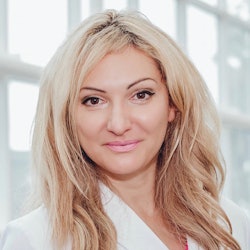 S058 – Alopecia Areata: New Therapies
Monday, March 20 | 1–4 p.m.
Location: Room 344
The FDA transformed the landscape for alopecia areata treatments last June with the approval of baricitinib — the first systemic treatment for the condition. The approval helped spur patients' already high interest in new and effective ways to treat hair loss.
Natasha Atanaskova Mesinkovska, MD, PhD, FAAD, professor of dermatology and vice chair for clinical research at the University of California Irvine School of Medicine, will direct this afternoon's new symposium, "S058 - Alopecia Areata: New Therapies," which will explore the latest approaches using baricitinib as well as other Janus kinase (JAK) inhibitors in the pipeline, and the latest in procedural and device-based approaches.
Medication for a specific disease
"Alopecia areata is the most common cause of immune-mediated alopecia," said Dr. Mesinkovska. "Alopecia areata affects 2% of the U.S. population and is not a cosmetic issue. It is a specific autoimmune disease, and we finally have an approved medication with more on the way."
Alopecia areata does not discriminate by sex or age, Dr. Mesinkovska said, and individuals of African American decent are somewhat more likely to present with this particular form of hair loss compared to those of Caucasian or Asian ethnicities. Women are somewhat more likely to seek treatment than men, maybe because men have the socially acceptable option of shaving their heads to avoid notice. 
And unlike many forms of hair loss, alopecia areata can affect children and adolescents as well as adults. The average patient age is in the early 30s.
Finding alternatives 
"Healthy hair is important for everyone, so it is vital to be able to identify alopecia areata quickly and correctly because we can treat it effectively with JAK inhibitors," Dr. Mesinkovska said. "We don't typically biopsy children, or even adults, if there is a good alternative, so we will have sessions on how to distinguish alopecia areata from other types of hair loss clinically and using dermoscopy. There are important tips to using dermoscopy as a tool to identify areata in all races and skin types because it can be tricky to differentiate."
In addition to baricitinib, two other JAK inhibitors, ritlecitinib and deuruxolitinib, are in development. Patients who do not tolerate baricitinib or have adverse reactions may benefit from off-label use of an alternative agent. JAK inhibitors are relatively expensive and off-label reimbursement remains problematic. 
Non-medical choices
There is also continuing interest in non-medication approaches to alopecia areata. Positive results have been reported for platelet rich plasma, microneedling, light treatments, and laser, although any subsequent hair growth varies by operator and patient factors. There is also the practical consideration of using relatively expensive, time-consuming, and sometimes painful temporary treatments for a chronic autoimmune disease.
Others slated to give presentations on a broad range of alopecia areata topics will be Brittany Gareth Craiglow, MD, FAAD, Chesahna Kindred, MD, MBA, FAAD, Brett Andrew King, MD, PhD, FAAD, Maryanne Makredes Senna, MD, FAAD, Jerry Shapiro, MD, FAAD, Bruna Duque-Estrada, MD, and Ronda S. Farah, MD, FAAD.
"Attendees will leave this session better able to recognize tricky cases of alopecia areata, choose patients suitable for systemic therapy, and feel very comfortable using medications in both adults and children," Dr. Mesinkovska said. "We have the best of the most-experienced alopecia areata speakers at this session to bring us up to date and to help us better treat and understand our patients."  
Visit AAD DermWorld Meeting News Central for more articles.