---
Take note: Where school left off
Key business aspects in medicine.
---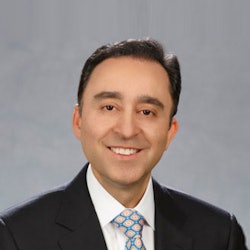 S021 – Business and Leadership in Dermatology and Medicine: What Dermatologists Should Know
Friday, March 17 | 1-4 p.m.
Room 266
Beyond surgery, slides, and Socratic discourse, there are many aspects of dermatology that are not typically part of what is learned in school. It is important to know about the U.S. health care industry, insurance companies, pharmaceutical, physician, patient-physician relationships as well as how the U.S. health system is funded and the legal aspects of the health care industry.
These will all be discussed in this afternoon's symposium, "S021 –Business and Leadership in Dermatology and Medicine: What Dermatologists Should Know," led by Keyvan Nouri, MD, MBA, FAAD, professor of dermatology, ophthalmology, otolaryngology, and surgery at the University of Miami Leonard M. Miller School of Medicine.
Addressing the complexities
"Medicine is one of the largest and most complex industries in the world, and in order to optimize patient care, it is essential for physicians to learn about the business of medicine and dermatology in order to minimize error, optimize operations, and improve quality of care," Dr. Nouri said.
According to Dr. Nouri, the key business aspects in medicine also include other important factors, such as consumer satisfaction and loyalty, repeat purchase, brand, innovation, efficient operations, and legal aspects. Dermatologists must also consider various practice settings as well, including private (solo) practice, group practice, academic practice, and equity practices.  
Tapping leadership resources
With all that dermatologists must know and juggle, access to leadership resources can be valuable, Dr. Nouri said, and he encourages dermatologists at every stage of their career to tap those resources. For example, AAD leadership opportunities include the councils, committees, and task forces as well as its Leadership Forum, Academic Dermatology Leadership Program (ADLP), Leadership and Mentoring Reception as well as leadership courses at the AAD Annual Meeting and AAD Innovation Academy. The American Medical Association (AMA) also has a bank of leadership resources. During this afternoon's session, AMA President Jack Resneck Jr., MD, FAAD, will provide an overview of what the AMA has to offer.
As for today's dermatologists who are interested in curating their own leadership opportunities, Dr. Nouri suggests there are five characteristics of leadership in medicine. They include mentoring others, challenging the status quo, educating others, creating opportunities for others, and practicing humility.
"The clinical pearls that I can offer include maximizing both intrinsic and extrinsic motivators, the importance of wellness and well-being of physicians and staff, the importance of emphasizing collaboration instead of competition, and that a system-based approach is more beneficial than an individual component," Dr. Nouri said.
Acknowledging the vast expanse of dermatology and health care issues, Dr. Nouri's session will be augmented by many other speakers on a variety of topics, including Daniel D. Bennett, MD, FAAD, Dirk Michael Elston, MD, FAAD, Tammie C. Ferringer, MD, FAAD, Roy G. Geronemus, MD, FAAD, Mark D. Kaufmann, MD, FAAD, Amy J. McMichael, MD, FAAD, Alexander Miller, MD, FAAD, and Robert Sidbury, MD, MPH, FAAD.  
Visit AAD DermWorld Meeting News Central for more articles.