---
Support the cause, make an impact. Win prizes!
Putting patients first
---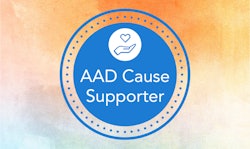 Support dermatology patients. Our patients' dermatological issues are more than skin deep. These partners have committed to awareness-building, education, and programs with the AAD. Visit each AAD Cause Supporter's booth, get your badge scanned and passport stamped, and they will donate $100 for every scan.
AbbVie: Supporters of AAD Philanthropic Programs as a top sponsor of the President's Gala, Booth 1642 
DermTech: Supporters of AAD Skin Cancer Awareness, Booth 2839
LEO Pharma: Supporters of AAD Camp Discovery, Booth 3739
Sanofi and Regeneron: Supporters of AAD Camp Discovery as a top sponsor of the President's Gala, Booth 342
Bring your completed passport to the AAD Resource Center Booth 4039 by 3 p.m. Sunday, March 19, for your chance to win complimentary registration to the 2024 AAD Annual Meeting Registration in San Diego. PLUS, the first 500 participants will receive a special gift. Some exclusions apply. For a listing of all drawing rules and eligible participants, visit www.aad.org/support-cause.
Visit AAD DermWorld Meeting News Central for more articles.