---
In the beginning
What young dermatologists need to know when starting out
---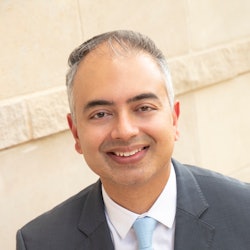 F047 – Young Physician Pearls and Pitfalls: A Survival Guide for the First 10 Years
Saturday, March 18 | 9-11 a.m.
Room 344
You don't know what you don't know. But many experienced, key thought leaders in dermatology have traveled the early career path and will share their wisdom and insight during Saturday's session, Young Physician Pearls and Pitfalls: A Survival Guide for the First 10 Years.
A panel of dermatologists, led by Allison K. Arthur, MD, FAAD, will present on a variety of practical topics regarding the day-to-day practice of dermatology that is most relevant to young physicians. That wisdom includes AAD Incoming President-Elect and fellow panelist Seemal R. Desai, MD, FAAD, a clinical assistant professor of dermatology at the University of Texas Southwestern Medical Center in Dallas. Dr. Desai will explore what he believes is an important first step: getting involved in Academy.
Get involved to learn more
"Getting involved with the Academy improves patient care, practice efficiency — all of the above," Dr. Desai said, "including continuing education, advocacy for issues facing dermatology and medicine, leadership opportunities, networking, and so much more."
Dr. Desai will offer tips for getting involved, including serving on a council, committee, or task force in an area in which you are experienced and think you can contribute to the structure of the Academy.
"Workgroups or committees are a great way to start getting involved. Submit an idea to give a scientific or other type of lecture at an AAD Annual Meeting or the AAD Innovation Academy," he said. "It's a great way to share your knowledge."
In addition, Dr. Desai encourages early-career dermatologists to get involved with activities that are created around the Leadership Institute as well as connecting with Academy calls to action, like responding to advocacy alerts and staying engaged on issues facing dermatology. 
"The Academy needs you and the Academy wants you," Dr. Desai said.
Saturday's session will also offer many practical tips for jumpstarting your career in dermatology. In addition to Drs. Arthur and Desai,  presenters include Mercedes Gonzalez, MD, FAAD, Julia S. Lehman, MD, FAAD, and Bethanee Jean Schlosser, MD, PhD, FAAD.
Visit AAD DermWorld Meeting News Central for more articles.