---
These AAD sessions can help you lead the way
Leading by example.
---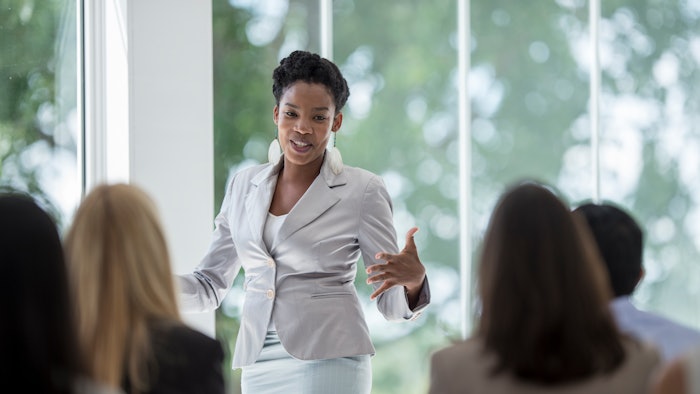 The AAD's Leadership Institute (LI) provides training, mentoring, and networking opportunities to help dermatologists develop leadership skills to make them successful in their careers and in life. At the 2023 AAD Annual Meeting in New Orleans, we encourage you to take advantage of these daily offerings:
Leading by Negotiation
Date: Friday, March 17 | 9 – 11 a.m.
Director: Lauren Claire Hollins, MD, FAAD
Guest Speaker: Marsheila DeVan
"Attendees will learn about how to have difficult conversations with confidence and grace using expert-tested methods. We're going to be talking about how to know your worth and negotiate with confidence and poise during the session with Marsheila DeVan."  - Dr. Hollins
Self-Care in Healthcare: Beyond Burnout to Finding Fulfillment
Date: Saturday, March 18 |  1 – 3 p.m.
Director: Kelly Cordoro, MD, FAAD
Guest Speaker: Amy MacDonald, PsyD
"This session provides a high-yield framework for participants to reconnect with the ideals that brought them to medicine in the first place and abandon the thoughts and choices that have negative consequences on well-being. Clinical psychologist Dr. Amy MacDonald will present a self-reflection exercise designed to help identify core values and gain perspectives and skills to increase fulfillment and meaning in work and life. We offer this session to anyone working in any aspect of health care as a first step and deep dive into a more value-aligned, and mentally and emotionally healthier future in medicine." – Dr. Cordoro
Thriving in Chaos: Strategies to Get Control of your Time and Your Life
Date: Sunday, March 19 | 1 – 3 p.m.
Co-Directors: Karolyn Wanat, MD, FAAD, and Nkanyezi Ngwenyama Ferguson, MD, FAAD
"Attendees can learn tips and tricks to get their email and time management back to a place of stability. We will provide and share both high-level and nitty-gritty details for participants to incorporate into their daily practices!" – Dr. Wanat
Innovating People: Creating a Positive Environment for Success
Date: Monday, March 20 | 9 – 11 a.m.
Director: M. Shane Chapman, MD, FAAD
"This session is for anyone who is running a practice, feeling like they have gaps in their management education, and who is motivated to improve. We'll review classic and current literature, gain insights, and offer some skills and strategies to help stimulate and motivate yourself and your team to be more effective. You will improve your capacity to lead, transform, and create an environment where all can thrive." - Dr. Chapman
Visit AAD DermWorld Meeting News Central for more articles.