---
The #1 Dermatologist-recommended Hair Growth Supplement Brand*
---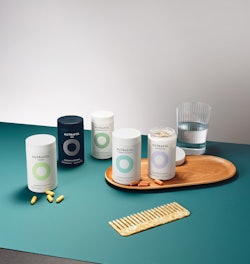 Clinically effective Nutraceuticals patented for hair growth.
Nutrafol's clinically effective Hair Growth Nutraceuticals improve hair growth in men and women through different life stages and lifestyles.1-6  Nutrafol Nutraceuticals are powered by the patented Synergen Complex® which features Ashwagandha, Marine Collagen Peptides, Tocotrienol Complex, Curcumin, and Saw Palmetto. This blend of phytoactive ingredients are clinically shown to improve hair growth by multi-targeting root causes of hair thinning—including hormones, stress, lifestyle, metabolism, nutrition, and aging.** Physician-formulated for patients with the following hair health concerns: thinning, shedding, poor hair growth, breakage, and weakness. Nutrafol Nutraceuticals are free of: gluten, dairy, soy, hormones, drugs, and artificial additives.
Nutrafol products are backed by 18 publications on hair wellness research—including 11 clinical studies with 2 randomized placebo clinical trials that substantiate Nutrafol's clinically effective results.
Nutrafol Women 
A daily hair growth nutraceutical for women ages 18-44 who are experiencing signs of hair thinning. Physician-formulated with natural, clinically effective ingredients that target root causes of thinning such as stress, lifestyle, and nutrition—for faster-growing, thicker, fuller, stronger hair.1,2 
Nutrafol Women's Vegan 
A daily hair growth nutraceutical for women ages 18-44 leading a plant-based lifestyle. Physician-formulated with 100% vegan, clinically effective ingredients that target key root causes of thinning—including nutrient deficiencies, gut health, and stress—for visibly thicker, faster-growing, and stronger hair with less shedding.3 Rather than simply removing non-vegan ingredients from their Women Nutraceutical, Nutrafol leveraged other clinically effective, vegan ingredients like Moldavian Dragonhead, to naturally optimize the body to support its own collagen production.3
Nutrafol Women's Balance 
A daily hair growth nutraceutical for women 45+ experiencing hair thinning. Physician-formulated with clinically effective, natural ingredients that target the root causes of thinning—including hormones, aging, and metabolism. This hormone-free formula results in visibly thicker, fuller, and stronger hair for women through and beyond menopause.4-6 Nutrafol Women's Balance is enhanced with added Maca Root and Astaxanthin to promote adaptation during hormonal changes attributed to menopause and promote healthy aging.7-9
Nutrafol Postpartum 
A daily hair growth nutraceutical for postpartum women in the first year after giving birth or breastfeeding. OBGYN-developed, natural, and breastfeeding-friendly, this formula supports whole-body recovery through vital replenishment with ingredients including Theanine and Shatavari, DHA Omega-3s and Tocotrienol Complex, and Marine Collagen with Nettle and Apple. Formulated to target key root causes of postpartum thinning—physical and emotional stress, hormonal changes, and nutrient depletion—for visibly thicker, fuller hair and less overall shedding.3
Nutrafol Men 
A daily hair growth nutraceutical for men with excess shedding and decreased scalp coverage who want to take a proactive approach to hair thinning. Nutrafol's patented technology visibly improves hair growth and thickness by multi-targeting root causes like hormone imbalances, stress, and poor nutrition—with ingredients that don't compromise sexual performance.2,9,10 Nutrafol Men is enhanced with added Saw Palmetto to help reduce the conversion of testosterone to DHT to improve hair growth.11 
Receive one complimentary bottle of Nutrafol Hair Growth Nutraceuticals!
The first 200 U.S.-based healthcare professionals who register will be eligible to receive one complimentary bottle of the Nutrafol Hair Growth Nutraceuticals of their choice (one month supply) - a $88 retail value!
†
†Offer valid to healthcare professionals in the United States who have not previously received complimentary Nutrafol products.
Click here to fill out the form to receive your free sample! 
For more information, visit nutrafol.com/professionals 
1. Ablon, G. J Drugs Dermat. 2018. 2. Stephens, T., et al. JCAD. 2022. 3. Nutrafol. Data on File. 2022.  4. Ablon G, et al. JDD. 2021. 5. Berkowitz S, et al. ASDS. 2020. 6. Ablon, G, et al. Menopause. 2021. 7. Kregiel, D. Molecules. 2018. 8. Davinello, S. Nutrients. 2018 9. Suhn, HK. Nutrients. 2018.9. Zlotta, A.R. Eur Urol. 2005. 10. Pytel, Y.A. Advanced Therapeutics. 2002.11. Rossi, A. Int. J of Immuno and Pharm. 2012. *According to IQVIA ProVoice survey for 12 months ending March 31, 2022. **Ingredients vary by formula to best support patients' bio-specific needs.
These statements have not been evaluated by the Food and Drug Administration. This product is not intended to diagnose, treat, cure, or prevent any disease.