---
Award-winning haircare developed by a Harvard-trained dermatologist
Brought to you by SEEN
---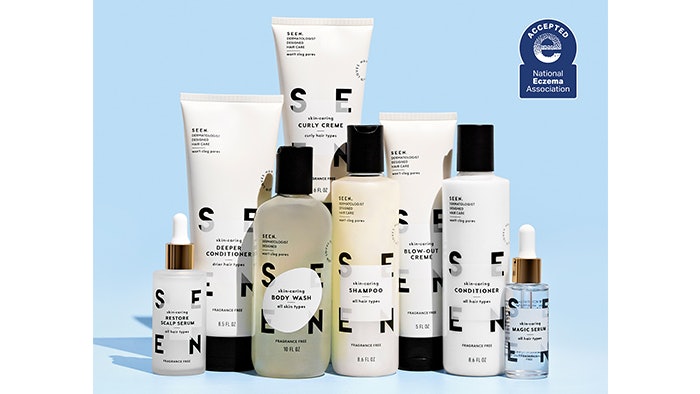 Created by Harvard-trained dermatologist Dr. Iris Rubin, SEEN recognizes that haircare is an essential part of good skincare. We promote healthy hair AND skin with formulas that are clinically proven to be non-comedogenic and safe for sensitive skin.        
Haircare products can contribute to issues such as sensitive skin, acne, and eczema, as well as dry scalp and hair shedding. Harvard-trained dermatologist, Dr. Iris Rubin, created SEEN formulas to be non-comedogenic, non-irritating, free of many of the top contact allergens and irritants, and safe for sensitive skin. Each and every one of SEEN's final formulas undergo rigorous testing, including HRIPT (human repeat insult patch testing), and all SEEN products are available fragrance-free for those who are allergic or sensitive to fragrance.
SEEN is backed by science, and we have both published studies and independent third-party testing to back our claims

70% of those with body acne and 52% of those with face acne improved (based on dermatologist grading) after using SEEN Shampoo and Conditioner for 8 weeks [1]
93% saw improvement in dry scalp (based on dermatologist grading) after using SEEN Shampoo and Conditioner as a regimen for 4 weeks [2]
SEEN Deeper Conditioner reduces hair breakage by up to 58% [3]
---
[1] In a dermatologist-graded clinical study, 27 subjects with mild to moderate acne used SEEN shampoo and conditioner as a regimen for 8 weeks. Journal of Drugs in Dermatology: JDD, 20(6), 690-693.
[2]  In a dermatologist-graded clinical study, 30 subjects with mild-to-moderate dry, flaky scalp used non-medicated SEEN shampoo and conditioner for 4 weeks. https://practicaldermatology.com/articles/2022-oct/bridging-the-gap-between-hair-care-and-skincare/pdf
[3] *Independent 3rd party lab test, repeated grooming study with 10 bleached hair tresses, compared to control.
---
SEEN Fragrance-Free Shampoo
Featuring a gentle yet effective plant-derived, sulfate-free surfactant, this shampoo provides luxurious lather that rinses easily without leaving the hair or scalp feeling stripped. Non-comedogenic and safe for all skin types (including sensitive) as well as color- and keratin-treated hair, this formula won the Elle magazine's Editor's Choice Award for "Best Shampoo for Sensitive Skin."
SEEN Fragrance-Free Conditioner
This lightweight conditioner for slightly-dry, normal, or oily hair (and scalp) helps detangle, soften, and enhance shine while reducing frizz* and breakage** when used as part of a regimen.
SEEN Fragrance-Free Deeper Conditioner
Developed specifically for drier hair in need of extra hydration, this fragrance-free conditioner helps detangle, soften, enhance shine, reduce frizz***, and minimize breakage.****
SEEN Fragrance-Free Body Wash
Safe for sensitive skin, this body wash provides SEEN's non-irritating, non-comedogenic benefits for every square inch of skin. The mild formula features naturally-derived, sulfate-free surfactants that leave skin feeling fresh and balanced.
All of our fragrance-free haircare products have received the National Eczema Association's Seal of Acceptance™, and SEEN's Fragrance-Free Shampoo and Fragrance-Free Conditioner have been awarded SkinSAFE's Trusted Choice "Good for Sensitive Skin" seal.
SEEN's non-medicated products are formulated without parabens, sulfates, phthalates, dyes, silicones, formaldehyde-releasing preservatives, or pore-clogging oils. SEEN is also vegan, gluten-free, color-safe, and keratin-safe. SEEN is proud to be Leaping Bunny-certified and PETA-approved, representing the brand's commitment to a non-animal testing policy and avoiding the use of any animal-derived ingredients.
*Independent 3rd party testing lab, study assessing "Anti-frizz Benefits of Hair Care Products" with a regimen of SEEN Shampoo, Conditioner, and Blow-Out Creme
**SEEN Shampoo and Conditioner tested as a regimen. Independent 3rd party lab test, repeated grooming study with 10 bleached hair tresses, compared to control
***Independent 3rd party lab test
**** Independent 3rd party lab test, repeated grooming study with 10 bleached hair tresses, compared to control