---
Introducing the Silagen® Acne Scar Refinement System, manufactured by Newmedical Technology, Inc.
Brought to you by Newmedical Technology, Inc.
---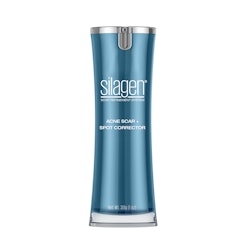 Silagen® Acne Scar Refinement + Spot Corrector is a new acne scar product that utilizes ReTex-5™ technology to deliver a powerful combination of acne scar correcting ingredients directly to the treated area. The Silagen® brand is the premier Physician Exclusive product line that Dermatologists, Med Spas and Plastic Surgeons have known and trusted for over 10 years.  
ReTex-5™ technology allows multiple targeted ingredients to coexist in one formula while remaining active and stable. Key active ingredients in Silagen® Acne Scar + Spot Corrector include: 10% Azelaic Acid, Bakuchiol, Vitamin C, Licorice Root Extract, and Medical Grade Silicone Gel, all of which have been shown to be effective in treating acne scars and/or hyperpigmentation.  Azelaic acid, for example, helps to lighten dark spots and reduce redness due to inflammation. Bakuchiol is a plant-based alternative to retinol used to stimulate collagen production. Vitamin C is a powerful antioxidant that helps to brighten the skin and reduce the appearance of scars. Licorice Root Extract inhibits melanin production and helps clear excess melanin already present. And, of course, Medical Grade Silicone Gel is the gold standard for scar treatment and prevention and is recommended as first line treatment in the International Guidelines for Scar Management.  
The benefits of using Silagen® Acne Scar Refinement + Spot Corrector are numerous. For one, gels are easy to apply and can be quickly absorbed into the skin, allowing the active ingredients to work more effectively. Additionally, gels are non-invasive, meaning that there is no risk of damage to the skin or underlying tissue. Unlike other treatments like laser therapy or dermabrasion, there is no downtime or recovery period after using Silagen® Acne Scar Refinement + Spot Corrector. Additionally, even if you undergo treatments such as dermabrasion and micro-needling, you can utilize Silagen® Acne Scar Refinement + Spot Corrector for improved post-procedure satisfaction and as alternatives to potentially irritating retinols and hydroquinone.  
In conclusion, Silagen® Acne Scar Refinement + Spot Corrector with ReTex-5 ™, is a combination of powerful ingredients that can improve skin texture and fade dark or red spots. Clinical research guided our selection of the most effective ingredients at proven potencies to ensure a smoother, more even skin tone. Use of Silagen® SPF-30 non-chemical sunscreen during the day with Silagen® Acne Scar Refinement + Spot Corrector is highly recommended for optimum results.
With its powerful combination of active ingredients and its non-invasive, easy-to-use formula, it is an excellent choice for your patients to improve the appearance of their skin and reduce hyperpigmentation. 
To receive your free sample, please fill out the form here!