---
Inclusivity in Dermatology
AAD in collaboration with Johnson & Johnson Consumer Health and Janssen is launching "Pathways: Inclusivity in Dermatology" to increase the number of dermatologists who are underrepresented minorities (URM) in medicine over the next five-years.
---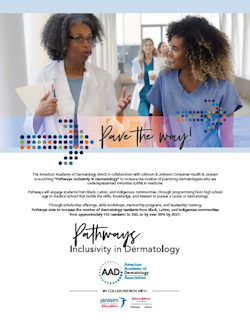 People of color face inequal access to health care and are experiencing poorer health outcomes. In the field of dermatology, these patients often don't know where to turn to for skin health advice and are 50 percent less likely than white patients to see a dermatologist for the same conditions.
The specialty has a powerful opportunity to advance care and make a positive impact on the lives of these patients. Inspiring a new, diverse generation of dermatologists to bridge this gap can help bring about the changes needed to improve health care equity in the specialty and ensure patients of color connect with the care they need.
The Pathways program will work to create a more diverse and inclusive specialty. The program will engage students from Black, Latino, and Indigenous communities, which are currently underrepresented in medicine, through programming from high school age to medical school that builds the skills, knowledge, and interest to pursue a career in dermatology. Through scholarship offerings, skills workshops, mentorship programs, and leadership training, the initiative aims over the next 5 years to:
o Increase the number of dermatology residents from Black, Latino, and Indigenous communities from approximately 100 residents to 250, or by over 50% by 2027.
o Increase dermatology program faculty from Black, Latino, and Indigenous backgrounds by 2%.
o Increase Pathways "touchpoints" promoting dermatology to Black, Latino, and Indigenous high school, college, medical school students by 10% each year.