---
AAD presidency: Passing the baton
The importance of participating during changing, challenging times.
---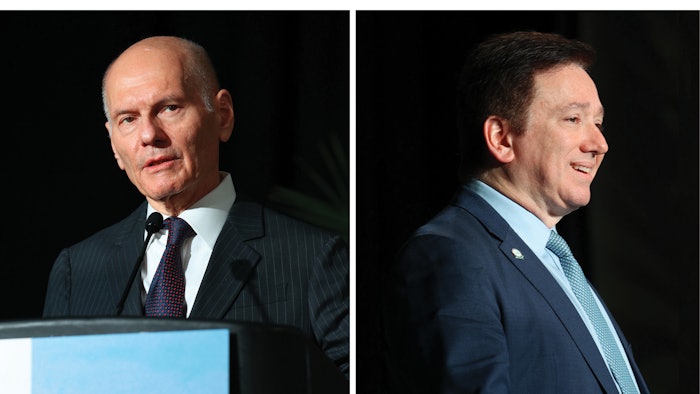 Outgoing Academy President Kenneth J. Tomecki, MD, FAAD, presented the concluding remarks of his term during Sunday's P151 – Plenary before the introduction of incoming president Mark D. Kaufmann, MD, FAAD. Both executives addressed the burdens of the pandemic and the ongoing need for attendees to show up, step up, and participate during these changing and challenging times.
After reviewing the state of the association, his tenure's efforts, and parting thoughts, Dr. Tomecki presented his five V's as advice and encouragement for attendees: 
Visible: Show up and be counted
Vocal: Speak up
Vigilant: Pursue good sources of news and stay current
Volunteer: Give back and make a difference
Vote: Engage by voting locally and in state and national elections as well as in AAD elections
Following Dr. Tomecki, Dr. Kaufmann thanked dermatologists for their passion, professionalism, and resilience during a most challenging time.
Despite the last two years, he said, "I have never been more optimistic about the future of our specialty. The reason for my optimism is simple. The need for quality dermatologic care is infinite. Demand is high. It will only increase. And it will never end," he said.
Dr. Kaufmann said he wanted to make 2022 the "Year of the Member."
"My goal for my presidency is to show our members that the AAD has their backs and that we can help alleviate and minimize all those things that distract from our true passion — to operate at the height of our license and provide the care our patients look to us to provide."
Dr. Kaufmann said in order to navigate the changing landscape, the specialty will require "existential flexibility," which is the ability to stay nimble and not only prepare for change, but to actually embrace it. 
Visit AAD DermWorld Meeting News Central for more articles.