---
Fox Award: The future of dermatology recognized
Congratulations to all who participated in the 2022 Resident and Fellows Symposium!
---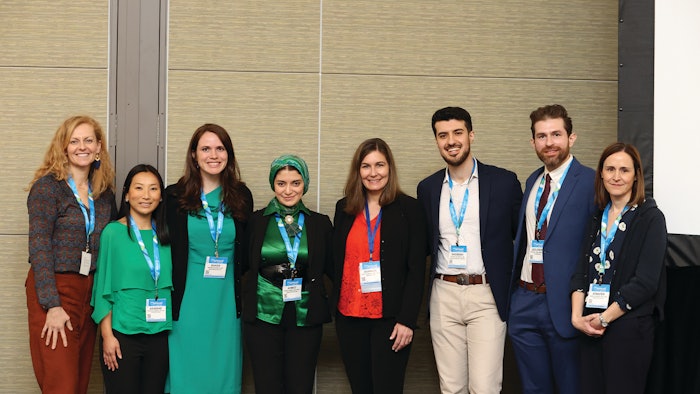 The Resident and Fellows Symposium was held Saturday, during the 2022 Annual Meeting in Boston, led by Cory A. Dunnick, MD, FAAD. Faculty judges selected individuals who presented the most outstanding papers in laboratory and clinical research. The winners of this year's prestigious Everett C. Fox Memorial Award are:
Basic Science Category
Winner: Mairead Baker, MD
Institution: Department of Dermatology, Medstar Washington Hospital Center/Georgetown University Hospital, Washington, D.C.
Title: CD200 expression on Merkel cell carcinoma enhances anti-inflammatory M2 macrophage polarization
Winner: Touraj Khosravi-Hafshejani, MD
Institution: University of British Columbia, Department of Dermatology and Skin Science, Vancouver, BC, Canada
Title: Inhibition of tissue resident memory-T cells as a therapy for contact hypersensitivity
Clinical Category
Winner: Maggi Ahmed Refat, MD
Institution: University of Massachusetts Medical School, Worcester, Massachusetts
Title: A double-blinded randomized placebo controlled study to examine the efficacy of JAK or calcineurin inhibitors added to phototherapy to promote melanocyte transplantation in the treatment of vitiligo
Winner: Andressa Akabane, MD, MMSC
Institution: University of Massachusetts Medical School, Worcester, Massachusetts
Title: Characteristic skin features in small-fiber polyneuropathy
Winner: Patrick M. Jedlowski, MD
Institution: University of Arizona College of Medicine, Division of Dermatology, Tucson, AZ
Title: Ingenol Mebutate and Squamous Cell Carcinoma: a Pharmacovigilance Study of the FDA Adverse Event Reporting System (FAERS)
Winner: Alan Snyder MD, MSCR
Institution: Medical University of South Carolina Department of Dermatology and Dermatologic Surgery, Charleston, South Carolina
Title: Histologic screening of malignant melanoma, spitz, dermal, and junctional nevi using a using a deep learning model 
Visit AAD DermWorld Meeting News Central for more articles.